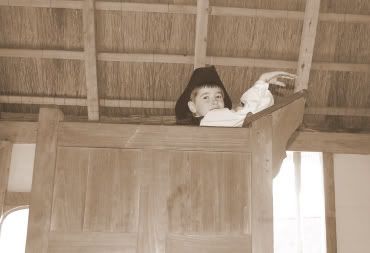 This evening, after tucking the lil' girls in,
I headed over to Will's room.
When I reached for the door knob, it was locked.
I listened and heard him talking inside of his room.
I knocked and he quickly scuffled to the door,
apologizing for forgetting to unlock it
after he had gotten his pajamas on.
He proceeded to tell me
how he had gotten wrapped up
in reading his Bible.
"Oh," I said,
"That's a Good thing to get wrapped up in".
He said,
"We were talking about Jesus,
everlasting life, and evil."

"We?" I asked.
He explained that he was preaching...
to his invisible church congregation.
He continued explaining how he was
reading aloud in John
and was explaining to his congregation
how we are hopeless without Jesus.
And he, also, said that tomorrow morning
he will begin preaching at 7:30am
so he needed to get his sleep.
He would be talking more about
everlasting life tomorrow
and then he would be talking about
evil and the sin of man.
It could go without saying, but I won't let it...
it absolutely thrilled my heart
to have this conversation with my son!
A few months ago,
he had shared with me
that
he felt the Lord may be calling him
to be a missionary or a preacher.
And it just tickled me to see him 'in action' tonight.
In the past, he has shared
other things
that have thrilled my heart, as well.
What a wonderful blessing it is
to see a child's heart
when it desires spiritual things.
God uses these times, also, to humble me
and to remind me to

fervently pray
for these precious ones.
What a mission we have
as their mama!
(photo from
our trip to Jamestown
)