Today the children woke up excited
to use the bubbles that we
had purchased over the weekend...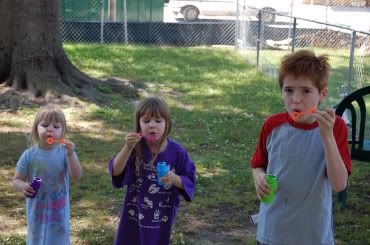 I love how bubbles can entertain children for so long!
Ally and I enjoyed watching them blow the bubbles
and then chase them as they flew away.

Later in the morning, our doorbell rang,
with an always welcomed 'guest' at the door...
the mailman! (We love to get mail!)
He had a box for us from my mama.
The children and I were very excited to open it...



Inside were birthday gifts for me
and, also, gifts for the children.
My mama is so thoughtful. *Ü*

A few of the gifts were wrapped
quite interestingly.
Two of them resembled large candies
and one was a big hook shape.
And they were wrapped twice!
(Thank you, mama! hee hee)

I couldn't resist opening the hook-shaped one first...


It was a cute hook-shaped bird feeder
with little birds on it.
It almost looked like an oversized spoon.
I love it!
Also in the box was a window bird feeder,
a patriotic birdhouse, a hummingbird feeder
with the nectar, a lighthouse nicnac,
and a copy of the magazine "Birds and Blooms".
She knows how much we love to watch the birds.
We are all very excited about the gifts!

The children enjoyed opening theirs, too...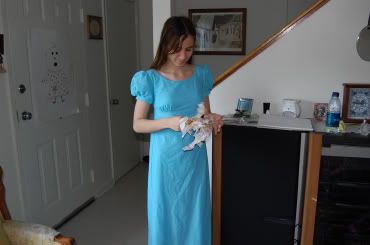 They had a mini-basketball game,
a mini-bowling game,
some cards (like Go Fish and Memory),
and Ally got a couple of decorative birds
and some flip-flop ponytail holders.

Also in the box were some punch balloons.
The children were very eager to play with these.
Guess who got to blow them all up???
Yep, me. What an ordeal that was...



It was well worth it, though.
The children had a wonderful time
playing with them together...



Later this afternoon, we headed to the grocery store
for our bi-monthly shopping trip.
Two baskets and a couple of hours later
we were heading home to unload.
Did I mention that I'm so thankful
for all of my helpers?
We had a lovely day.
Oh, and I got to chat with my beloved online today.
That is always a blessing!
Hope y'all enjoyed your day!


"This is the day which the LORD hath made;
we will rejoice and be glad in it."
~ Psalm 118:24