After my previous post,
I headed back outside to finish
putting together our new gazebo.
Carolynne came to help.
She enjoyed handy me the hardware...



A little while later, Beth came outside, too,
and the girls were discussing the hardware pieces...



After getting the frame together,
the lil' girls and I worked at putting the frame
for the actual canopy together.
As we worked on that,
Ally worked at cutting some fabric for a new dress...



After the lil' girls and I were finished,
they returned indoors and Ally came outside
to help with putting the canopy on...




And, of course, she made me laugh...


LOL..

I must say that it was very, um, .... interesting
getting that canopy on top of the frame.
The book recommended four adults on step ladders!
But with a bit o' work and a bit o' laughter
we succeeded at getting in up there! Woo hoo!
Four high fives!
(One for each person the directions recommended!)

After we attached the 'lid' to the frame,
we worked at putting up the screens/curtains.
Ally put all of the rings on...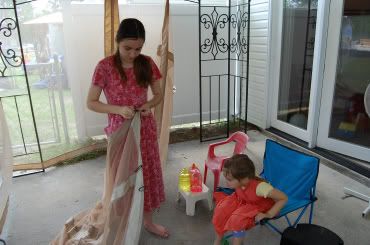 And, of course, we finally finished! Yipee!

Here is the final project...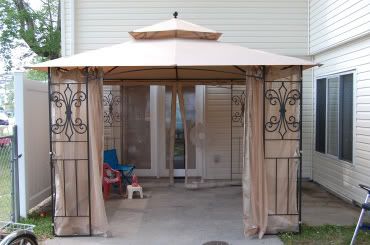 We were glad that we liked it, after all that work!
This evening, Will spent time in there
working on some math
(and watching the birds)...




Beth and Carolynne were eager to play in it...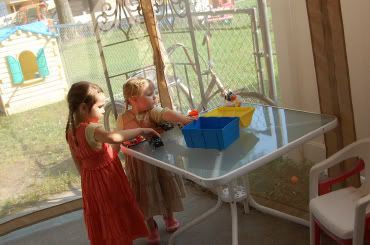 And the three of them begged to eat supper in it...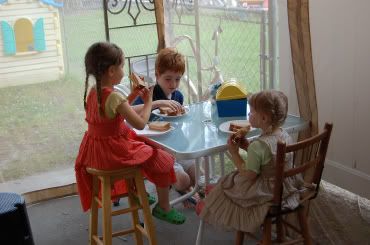 I'm sure we'll enjoy having it very much.
It was a lot of work (my body reminds me I am aging)
but it was worth it (and it was fun).
Hope y'all enjoyed your Thursday!
Time to catch some Zzzzzzz...