Today, after dropping my mama off at dialysis,
I returned home to do some laundry, wash some dishes,
vacuum, and do some general cleaning.

I also took the younger children to our neighbor's
to tend to their doggie.
We have been petsitting for the week.
She is such a sweet and loveable dog.
(We would love to have one just like her,
but it's not the right season in our life just yet)
The children and the dog, Sable,
had so much fun playing together...




While playing outside,
I discovered that Will has learned the art
of climbing fences...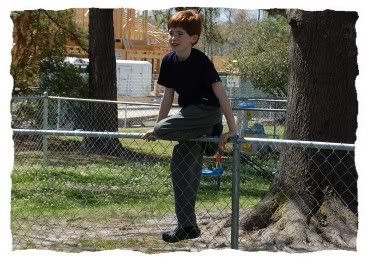 Ally spent a little time outside, too...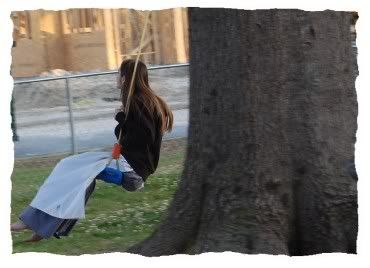 Later in the day, I left a little early
to pick mama up from dialysis
so I could pick up some photos
that I had finally ordered prints of.
My digital camera has been a wonderful blessing,
but I find that I neglect to order prints.
I have photos from 2005 that I still need to get prints of!!
I have decided to try to order a few sets of prints
on each payday (every two weeks)
and that should catch me up.
Does anyone else have photos from long ago
that they still haven't gotten prints to?

As I was looking over the prints,
it was bittersweet to see how the children have grown,
even in just a year or two.
Seeing my children grow is delightful in many ways
but it sure does tug at my heartstrings, too.
Also, today we had
friends
come over
for our
Sourdough Pizza Friday Night
.
AND...
I got a phone call from my beloved!!
It had been a while since I had heard from him.
It was wonderful to hear his voice!
I sure hope y'all enjoyed your Friday, too!