to excercise patience and creativity
as we spent the vast majority of our afternoon
at the naval hospital to see the doctor.
Ally started to not feel very well
so today we went in for an appointment.


I was thankful that the children
were content looking through
our bag of books that we had brought
and playing quietly (well somewhat) with each other.
It seems that most public places nowadays
are either playing music or showing tv shows
that we do not have in our home or lives
so it is always a blessing to see
the children content otherwise.


They did an ekg in the doctor's office
and sent us to get some more blood work done.
We needed to linger around for quite some time
to wait for the initial results of the labs
went into the mini-store there
and picked up some waters and a snack
then headed outside to enjoy the weather
We had a nice time.


It was mostly hot, but there was an
occasional gust of wind that felt wonderful.
We spent time talking and snacking
and the younger ones enjoyed
running races, picking 'money leaves' from trees,
searching for birds' nests,
and listening to the different bird callings
(as well as listening and looking for the helicopter).
I was wishing I had my camera... but I didn't.


After an hour or so, we were able to head home,
as there was nothing alarming in her bloodwork.
The children were glad to go out in the backyard
and use the frisbee and new ball
that we bought over the weekend.
I learned an important new fact about our youngest...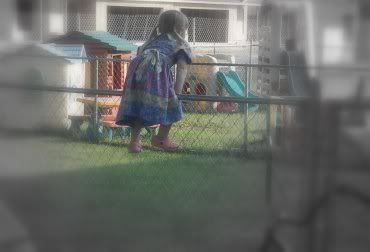 I saw that she has the ability
to succeed in her attempts at climbing our fence.
I was glad to learn it before she crossed over!


Now we have finished supper,
the children are jumping and playing outside
while Ally is reading a book.
Bathtime and bedtime have come
so I am off to tend to my joyful duties.
I hope y'all have enjoyed your Monday!