Today has been a day of beautiful weather for us!
The younger children were eager to
spend most of the day outside.
Will and Carolynne came through the house
and went into the garage to search for boxes.
When I asked what they needed boxes for
they replied that they were going to be vikings
and that their job was to find a ship (and bedrooms)
while Beth collected sticks for a fire.
I was thrilled to see them using their imaginations
and I was tickled as I watched them play...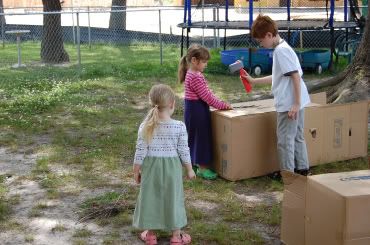 Here, Will was chopping the sticks
that Beth had collected for their fire.

And here were Will and Carolynne
inside of their viking ship...


Carolynne's room on the ship
was too small for her,
so she and Will shared.

Beth was sailing away
in her own quarters...




After their viking voyage (to Alaska),
I found them getting inside the box.
They were standing it up and tipping it over...
a fun 'ride', apparently. lol...





While I was outside, I checked on my tomato plants...


They seem to be doing pretty good so far.

I wish I could say the same for our other plants...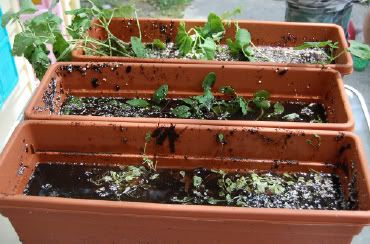 The cucumbers, lettuce, and green beans have drowned
(well, the green beans may still have a chance).
Our rain gauge had a total of 14 inches in it
from the other week!
But we are glad the tomatoes are still alive. YUM!
And the flowers have finally poked out of the dirt...





Inside the house,
after finishing up some of her "homework",
Ally began cutting fabric for her new dress
that she is working on today...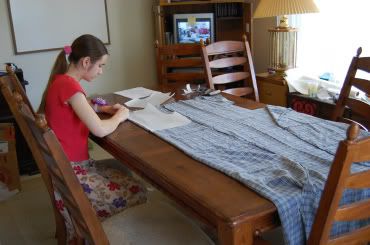 And, later, she began sewing on it...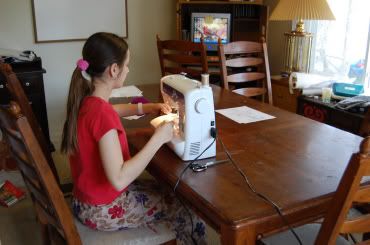 She hopes to get it finished today.
It's such a pretty plaid print.

For lunch, the younger ones had a picnic outside...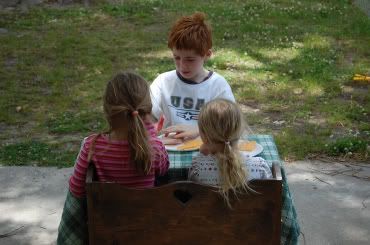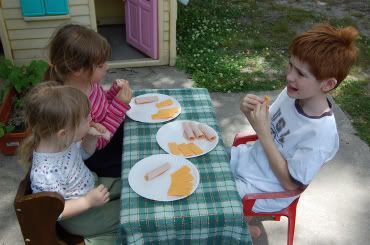 After lunch, they spent some time playing
a game of croquet in the backyard...


It's always a joy to see them playing well together!

Also, this afternoon, I read aloud to the younger ones
from our Christian Liberty Press Nature Reader.
We were reading about brown thrashers,
which really interested the children
seeing we have been having them in our backyard...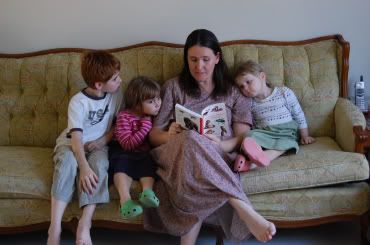 After our reading time, we took a little nature walk
to see if we could find a nest from the brown thrasher
but we were unsuccessful in finding one.
We did have a nice time, though.
We saw a few birds and spent time listening
to some new bird calls that we do not know, yet.

I was, also, delighted today to 'speak' to my beloved online.
It's always wonderful to hear from him!
I hope y'all have enjoyed your day.
I'm off to make supper.
"This is the day which the LORD hath made;
we will rejoice and be glad in it."
~ Psalm 118:24