I hope you all enjoyed your Memorial Day.
We spent most of our day at home.
During the day,
I sewed a couple of t-shirt dresses
for the lil' girls.
I realized this morning that
they didn't really have anything
that was red, white, and blue
so I found a couple of shirts
and some fabric that I had laying around.
I also added a lil' ruffle to their sleeves...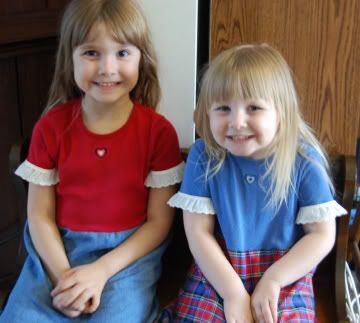 Afterwards the children and I
made some patriotic wind socks.
They colored their wind socks...




and then we taped them together...
(somehow my stapler is still packed away... lol)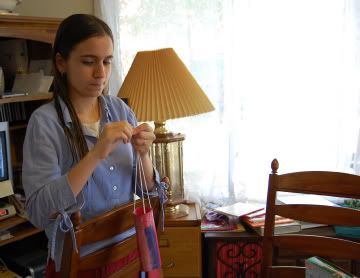 Then they had fun playing with them outside...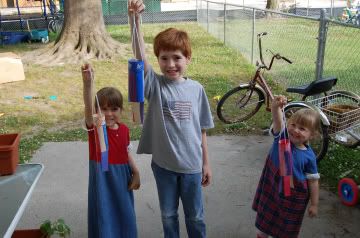 After that, we headed to our pastor's house
for some food, fun, and fellowship.
I took a few photos but most of them are blurry
so I decided not to share.
We all had a lot of fun, outside, playing frisbee
and the lil' girls enjoyed running around playing
and flying their newly-made wind socks.
Ally was glad she was able to
participate in playing frisbee
and helped in one of the highlights of the evening
when she accidently sent the frisbee
into the mucky pond,
which was unable to be retrieved by stick
and provoked one of our pator's sons
to jump in after it. lol
It was entertaining to see.
Though they had a nice time
the children were glad to get to bed
when we got home.
It was nice to have some fellowhip today,
though we missed Daddy.