We were invited to our assistant pastor's home
for supper and fellowship this afternoon.
I decided to leave the house a little earlier
so the children and I could stop at
the Beirut Memorial and the local veterans cemetery.

First we stopped at the Beirut Memorial.
Ally read aloud a poem that was displayed...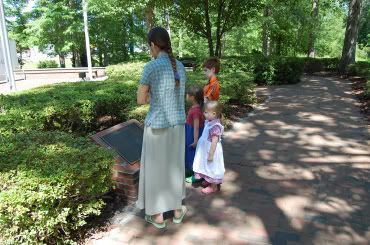 Then we read aloud the names on the wall
and prayed for them and their families...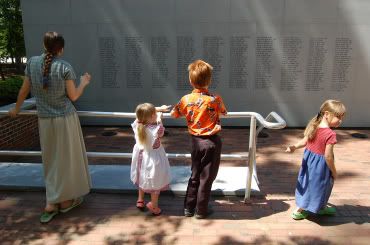 Also, near the memorial was another memorial
honoring those from September 11, 2001
and those serving in Iraq...





It was a steel beam from the World Trade Center...




Afterwards, we went to the veteran's cemetery.
It was a sobering reminder to see so many headstones.
Each one had an American Flag next to it...





As we were leaving the cemetery,
there was another section containing many
older-looking headstones

so we got out to look.
Then I sat in the van with the lil' girls
as Will and Ally walked together,
looking, reading, and appreciating...



Many of them were from the 1800's...
many were during or right after the Civil War.
They enjoyed reading many of the inscriptions together.
The oldest one that they noticed was dated...
Born 1694 Died 1766



It was an interesting trip.
We enjoyed many discussions while we were there
and on our journey in the van.
Afterwards, we arrived for supper
and then had a lovely time of fellowship and fun,
playing a few games.
It was a great time.
We look forward to the Lord's Day tomorrow.