Though we had an eventful evening yesterday,
we had a pretty good day.
The children spent some time in self-learning.

Will worked in his math for a little bit...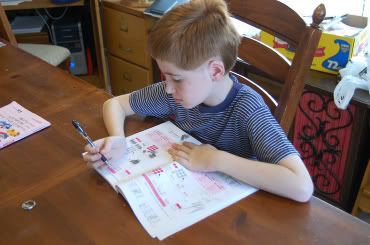 and then headed outdoors to play
and to draw a picture of a couple of cardinals
that have been visiting our yard frequently.

Beth decided to color outside...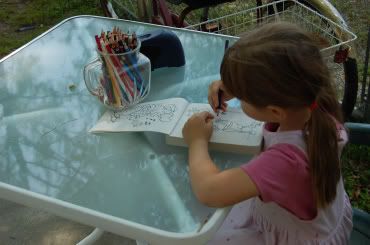 She is very particular in her coloring.
She tries to leave the least amount of uncolored spots
on her paper as possible
by coloring in as much as she is able.
It's so cute how they each have their own coloring habits.

Meanwhile Carolynne searched for interesting treasures
hiding in the backyard...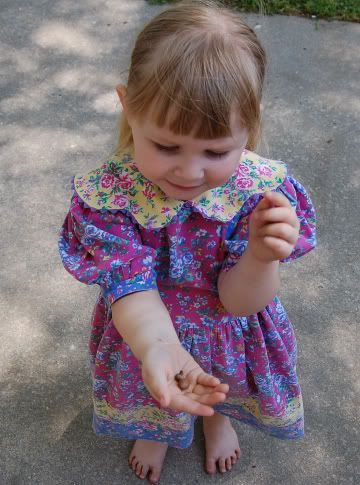 And found a few that were lovely to her.

Ally spent most of the day reading
"The Odyssey" by Homer...
(one of the books she found at the thrift store recently)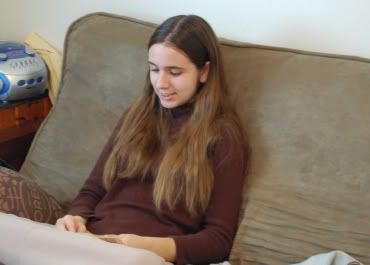 She completed the book today.


Today (after last night's incident),
we decided to take it a bit easy.
We had a family of friends come for a visit,
which lifted Ally's spirits
(and was good for all of us).
It was nice to see all of the children outside
enjoying the beautiful weather
that we were blessed with today.

I don't know what it is, exactly,
but I just love to see children jump rope.
I was thrilled to see them in the backyard
playing with the rope together.
Ally didn't do any jumping
but she enjoyed contributing best she could...


Will was thrilled to try this way of jumping rope,
especially since he just figured out, this past weekend,
how to jump a rope by himself.
A lovely accomplishment for him!
I was a proud mama to see him catching on so quickly.

Beth was eager to give the jump rope a try, too...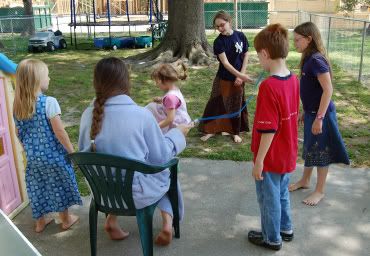 She even got in a clear jump!

Carolynne wasn't quite ready to give it a shot,
but she was excited to help swing the rope...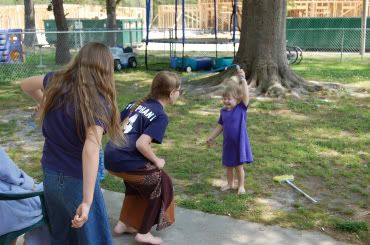 It was precious to see them all playing so well together
and enjoying themselves.
It thrills my heart to see my children
(and, in this case, my friend's children)
get along so well... overcoming age gaps and so forth.
It really is a blessing to see the older ones
play with the younger ones so willingly and cheerfully.
And it is such a blessing to see the younger ones respond
with such excitement and delight.
This evening the children, Gramma, and I
sat in the backyard watching the birds...
they sure have been active!
It was delightful.
At suppertime, the younger ones
decided to eat outdoors
to continue their birdwatching
(and squirrel watching).
It was precious to see.
This has been a week of a couple of milestones for us...
Will learning to jump rope successfully.
Carolynne deciding she can
jump on the trampoline without holding the net.
And this evening, at bedtime,
both lil' girls insisted on not wearing diapers to bed.
(we'll see how the morning goes)
Even these milestones are such precious moments
in our children's lives.
They sure grow fast.
May I not waste or overlook these moments.
Thank you, Lord, for children.
"Lo, children are an heritage of the LORD;
and the fruit of the womb is his reward."
~ Psalm 127:3