Today our weather cooled a bit,
but it was still a very beautiful day.
Ally has been working on
a cross-stitching project this week
and it is coming along very nicely.
She wants to do a bird/God's creation theme
for the decor in her bedroom
(especially since I made her those curtains).
Her cross-stitch project is called "Mad Blue Bird".
It's a cute, chubby, little blue bird
with a little bit of a frowning expression.
I'm sure she can't wait to share the finished project,
but I did catch her working on it...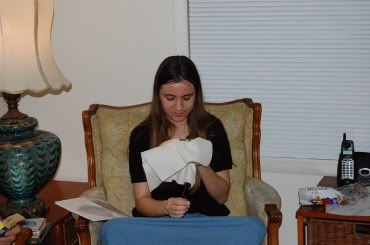 She is really enjoying this kind of handiwork.

The younger ones, at lunch time,
decided to have a tea party together...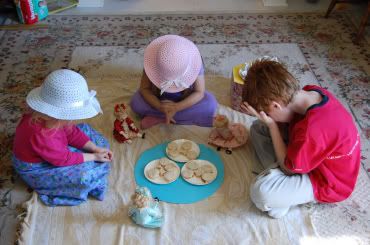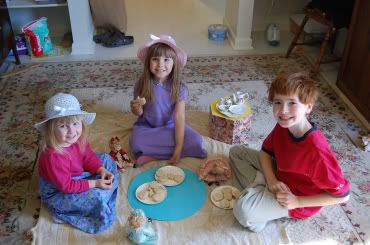 I got to talk with
my beloved on the phone today...
twice!
That was a real joy,
even though most of our conversation
involved 'technical' stuff.
It was still wonderful to hear his voice!

Also, today, I spent lots of time in our garage,
which has been a disaster since we've moved here.
I was able to go through two boxes of books
(which I found my other set of encyclopedias
and an entire series of American History books...
Will was thrilled about that, too!).
I was also able to load up the van
with five good-size boxes
and many bags of donate stuff.
Will and I dropped it off later this afternoon.
I'm sure it will take a few good days
to get it somewhat decent.
I also hope to organize, eventually,
my beloved's side of the garage.

And, apparently, that wasn't enough
physical exhaustion for me today,
because this evening, before bedtime,
I was jumping on the trampoline
with the children.
Lots of fun! But sure a lot of work!

I hope y'all enjoyed your day!