Our 'special guest' arrived yesterday evening!
The children went to Vacation Bible School,
riding with some friends,
and I went to the airport alone.

My excitement was at its peak
as I stood at the airport window
watching the plane land and the passengers exit.
I cannot describe the sudden overflow
of emotions that surrounded me
when I saw our 'special guest' walking of the plane!
And my face showed it... wet eyes and all!

After enjoying a wonderful supper with our 'special guest',
we went to the church to pick up the children.
Oh, what a moment!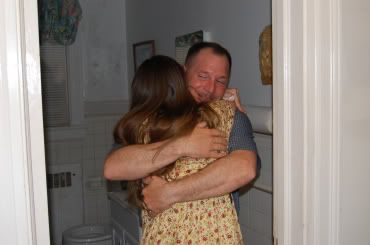 Welcome home, Daddy!