This week has been flying by for us.
In addition to Vacation Bible School,
we have spent some time with friends
and much time preparing our home
for our 'special guest'. ;o)

I do not have anything profound to share.
I just wanted to share some photos
from the past couple of days.

The last couple of days have been real 'scorchers'
so yesterday the children enjoyed
playing in the water outside...


We added a little baby shampoo
so they could clean their toys as they played.
They loved it!

Today we worked at cleaning the house.
And I am happy to say
that my laundry room floor is now visible! woo hoo!
Mount Washmore has been chiseled down
to merely a laundry hamper full. ;o)
We've been washing counters, walls, floors, and toilets;
picking up toys, putting away clothes,
sweeping, mopping, vacuuming,
and sorting papers (yikes!).
Ally spent time in the reading room
organizing the books on the book shelves.
She's such a sweetie...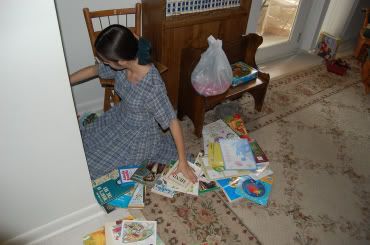 The younger ones tackled the lil' girls room.
I was proud of them!
They started off with a bit of a mess...


But they did a great job and had fun doing it.

We've, also, been 'working in' some fun time ...

We've had some busy days for quite some time
but we are looking forward to a more relaxing time
in the days to come!
I do not know how regular my blogging
(or responding to comments) will be
over the next few weeks
but I will 'touch base' as I am able.
I will share our 'special guest' as soon as I can.
Enjoy the rest of your week! We WILL! ;o)
"My soul shall be satisfied as with marrow and fatness;
and my mouth shall praise thee with joyful lips:"
~ Psalm 63:5