We've had quite a few busy days lately.
Last Friday, we had our homeschool park day
then sourdough pizza night with friends.
On Saturday, we met at the church
to go 'blitzing' in the nearby neighborhood,
inviting them to VBS this week.
Sunday was a wonderful Lord's Day.
The sermons were such a blessing,
as was the fellowshipping.

This morning, the children and I
started to really clean house
(or, as the Marine Corps calls it... field day).
We are preparing for a,
um, "special guest" very soon. ;o)
Here were the children this morning...

Ally worked at cleaning up her room...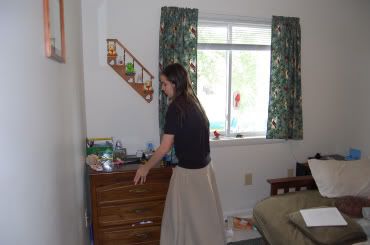 Will and Carolynne worked together in Will's room...




Carolynne also helped by throwing the dirty laundry
down the stairs to be washed...


Oh dear! LOL...
Needless to say, I was working on
chiseling away at Mount Washmore. ;o)

Beth was helping to pick up the floor
but was easily distracted...


lol ;o)
This afternoon was spent visiting with friends.
Then this evening we headed to Vacation Bible School,
which I'll post about next.
I hope y'all have enjoyed your Monday!