Today began with waking to see my beloved at my side.
What a blessing that was!
It, also, began with Beth at our feet. ;o)
Will rose early, eager to make his daddy a pot of coffee.
Soon enough, we were all downstairs
beginning our day together.

What a delight it was to sit in the backyard,
in the gaezbo, drinking a cup of coffee
with my beloved!
We spent the morning just enjoying Daddy.

I knew I'd have to have the camera handy today
(and for the next two weeks!)
when I entered the living room to see this...


It just melts the heart!

Later this morning, Dad presented the children
with a few special things he had brought home for them.
He gave each of them lil' dog tags that say,
"With love from Dad, U.S. Marines, Iraq 2007".
They were each thrilled to have those.

Ally was excited to get a little porcelain doll
that he picked up for her while in Germany...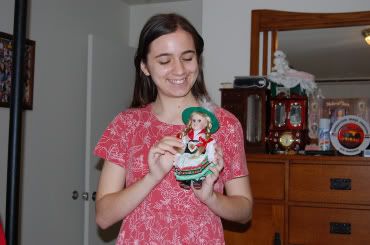 He had something particularly special for Will, too.
On Will's birthday (last week),
Daddy was visiting his brother (Will's uncle)
in a different part of Iraq
and on Will's birthday, Daddy and Uncle flew a flag
in honor of Will's 9th birthday.
After flying the flag, they took it down and folded it,
signed an official certificate, and got a photo!
It was quite a special gift!


We know it is something that
Will is going to treasure in years to come!

In addition to other gifts,
Daddy gave out a few foreign coins and, also, pogs.
Pogs are a 'cardboard coin' that can be used
at exchange stores on military bases.
They children thought it very interesting
that he could purchase things with cardboard. ;o)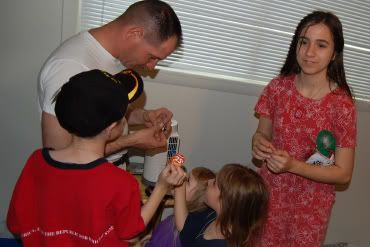 (you can click on this photo to see it larger)


Later, we all had lunch together! ;o)
Ally made a yummy corn chowder...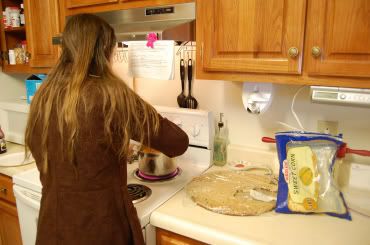 It was a smorgasboard, really.
Ally and I ate the corn chowder.
The younger ones wanted Spaghettios.
And Daddy wanted a double-decker PBandJ.
But it sure was nice to sit at the table together...



After lunch, Will and Dad did some yard work together.
My beloved didn't mind, at all, mowing the grass.
It had been a while since he had seen so much of it! ;o)



Ally was out, too, feeding our wildlife. ;o)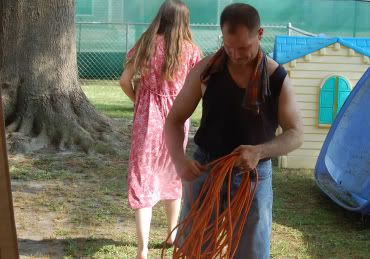 As they worked outside, the lil' girls enjoyed some books...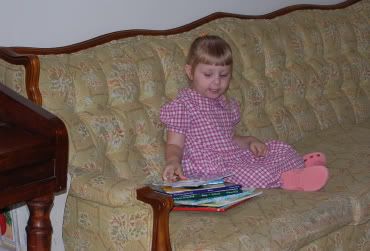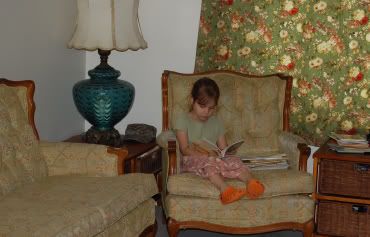 After the yardwork, Daddy took the lil' girls to the store.
They were excited to be in Daddy's truck with Daddy...


By the way, see how the picture is a little 'foggy'?
It's been so hot and humid here this week
that everytime I try to take a picture outside,
my lens fogs up intensely. Yikes!
Is it hot where y'all are?
My poor beloved is having to adapt
to this moist, humid heat
instead of that dry desert-like heat.
He thinks this may be worse. lol

As they made a quick trip to the store,
I began our traditional sourdough pizza for Fridays...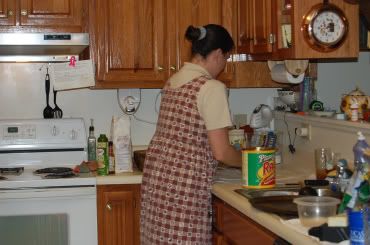 After eating, it was a sweet sight in the living room...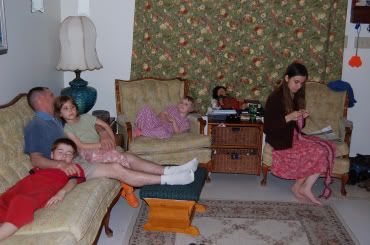 Daddy was dozing in and out of sleep...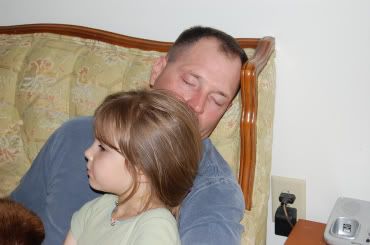 Ally was working on a new crochet project...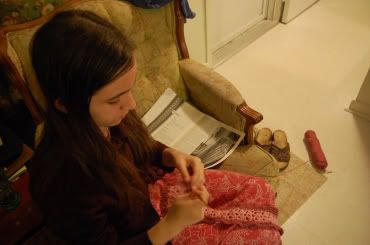 Carolynne was relaxing on the chair...



Will and Beth enjoyed snuggling...



Oh, what a blessing it is to have Daddy home...
even if it is only for a while.