Today we began our 'offical' learning times
(a.k.a school).
It didn't exactly go as I had hoped or planned
but we made the most out of the day we had. ;o)
I had intentions of rising early in the morning
but poor Will was up at 5am getting sick in the bathroom
so once we made it back to the bed, sleep came fast.

Once we did wake up, however,
we were able to get breakfast finished, get dressed,
and begin our day together. ;o)

After breakfast, all of us sat at the table
for our Proverbs Time.
We chose verse 19 of chapter 10 to illustrate...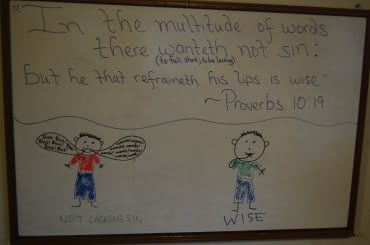 Here were theirs...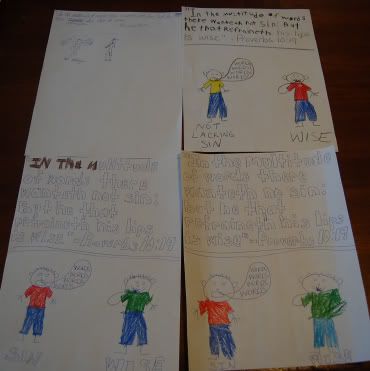 Afterwards, Ally went into her room
to work on her worldview and her chemistry.
Will and I stayed in the dining room to read history.
We began reading about Benjamin Franklin.
While reading one of his proverbs,
we came across a word we didn't know
and had fun looking it up in the dictionary...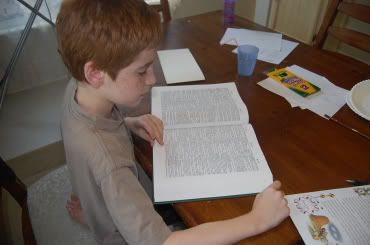 Then Will copied the proverb...


"Every little makes a mickle"
Mickle, we learned, means much/great.

We, also, read from our Burgess Bird Book
about Jenny Wren and Petter Rabbit
and he colored a picture of a wren.

Later in the day, they were happy to play...


Here they had wrapped their toys in blankets
and then opened them up on the floor... fun! lol

Ally seized the opportunity to play the piano
as the younger ones played outside...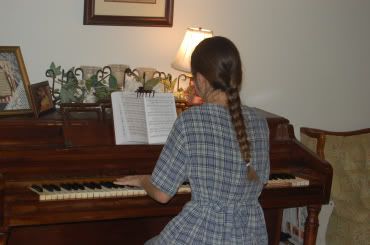 Today I was able to get a few loads of laundry done
and do the kitchen dishes from the weekend
(a load in the diswasher and many by hand), too. woo hoo!
All in all, it was a pretty productive day.
I hope y'all enjoyed your Monday, too. ;o)