It was another busy day to close up our week. ;o)
This morning I successfully made it through,
with the Lord's help, a visit to the dentist
(which is a big deal for me).
I was very thankful it went so well!

This afternoon, the children and I
went to our friend's house to feed their animals
one last time before they arrive home.
Then later in the afternoon,
we stopped by the commisary
to check out the case lot sale.
There were a few errands in between, too.
I thought I'd share a few photos from today
and a few from earlier this week
that I didn't get a chance to share. ;o)


Earlier this week, while playing dress up,
my young knight came across
this 'flower mushroom' (as he called it).
I delighted in his enthusiasm...





Will was, also, delighted this week
to get a 'geography lesson' from his Daddy
via the telephone...


They had a nice breakfast chat
as Daddy explained to him where he was this week. ;o)


Ally was thrilled this week
when she received her new Advanced Chemistry course
in the mail... particularly when she got her lab kit...


She is very excited about
this year's upcoming experiments...
I cannot say that mama is quite as excited. lol
I have told her that her 'lab' will, likely,
be outside under the gazebo this year... just in case. ;o)

Earlier this week, when we fed our friends' animals,
the children were excited to chase the guineas
(they're like wild turkeys)...


Carolynne is to the far left, then Will and then Beth.
The guineas are to the far right in a cluster. ;o)


Today the children were excited
to feed our friends' animals, again.
Here they were feeding the guinea pigs...



While Ally played on their piano...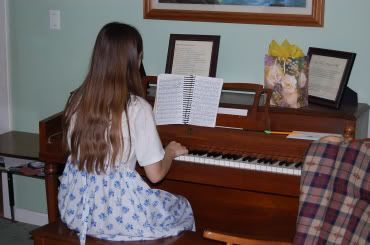 Then we headed outside to feed the chickens.
Even our friends' dog,
was excited to be home and outside...



As Ally was going to get the chicken feed,
she was startled by this hanging out by the door...


Beautiful creature (in a bit of a creepy way). ;o)
We admired its features and its zigzag web.

This little beauty was nearby, too...




Off to feed the chickens...



... which were happy to be fed...



Ally was tickled to sneak in petting Caesar...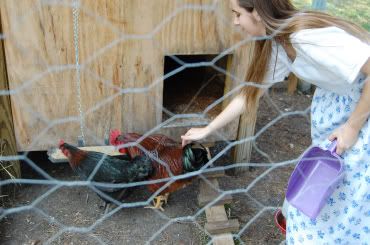 He didn't like it much, though. lol

The others watched to see what would happen...


They liked the idea of petting the rooster,
but weren't interested in trying it. ;o)

After we left, we stopped at the commisary
to check out the case lot sale.
We were surprised to see
what they had parked in the parking lot...


Notice it to the far right??
Something is parked there that is larger than the people.
Here's the upclose view...



You can click on it to see it larger.
Notice the engine on the bottom??
They actually drove it through the parking lot!
How's that for a grocery cart?!
Ally says we need one of those when we shop. lol
We were very amused. ;o)
I hope y'all had a wonderful week!