It was another beautiful autumn-like day!
The windows were the second thing
that were opened this morning...
our eyes were the first. ;o)

After eating breakfast and lounging about,
Will and I read aloud together for history...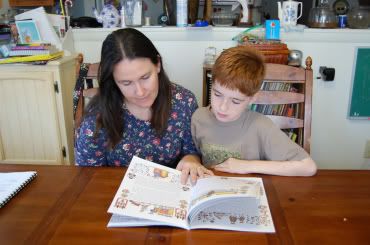 Beth and Carolynne sat in the reading room
looking at photo albums together...




A little later, the younger ones and I
did a character/Bible lesson together...

We used one of
Kate's Mini-Manna for Little Lambs
.



As the younger ones worked on their color page,
Ally was working away at Chemistry...



After our Bible lesson,
Beth and Carolynne helped me prepare lunch...


Nachos! (leftover taco meat on leftover taco shells) ;o)

Will worked on some copywork as he waited for lunch...


We have enjoyed finding Scripture
that correspond with Benjamin Franklin's sayings.
We have, also, enjoyed the critical thinking exercises
that we're getting from trying to figure out
what some of Benjamin Franklin's sayings mean. ;o)

Later in the afternoon, the children enjoyed
playing outside before we left
to go to Ally's chiropractor appointment...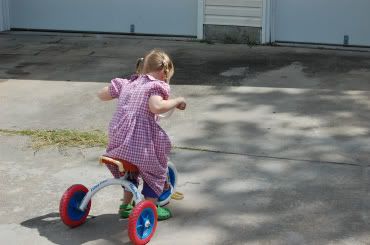 Did I mention that we are loving this weather?! ;o)
After Ally's appointment, we went into Staples (fun!fun!)
to get copies of my home learning plan sheets
and I got a couple of e-books printed.
The children were more than ready for bed this evening,
though one of them was a little overtired.
After the younger ones were asleep,
Ally made up a two week menu for us
(using some of the things I had on our old one)
so we can, Lord willing, do our grocery shopping tomorrow.
She, also, baked a yummy carrot cake
with cream cheese frosting. The aroma was delicious!
Hope y'all are enjoying your week!



"And one cried unto another, and said,
Holy, holy, holy, is the LORD of hosts:
the whole earth is full of his glory."
~ Isaiah 6:3