Today we had our bi-monthly park day
with our homeschool group.
The temperature was still a little high, 80's,
but the breeze was wonderfully refreshing!

The children enjoyed playing at the park...



Carolynne and Beth going to play,
they had been holding hands... so precious!




Will thought it would be fun to try some pull-ups. ;o)
... just like his Daddy does.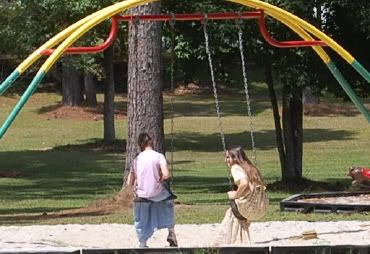 Ally and a friend spent some time doing their Bible study
as they sat on the swings.
As the children played,
the mamas enjoyed the opportunity to fellowship. ;o)
Ally, also, enjoyed taking some photos while we were there.
She took a photo of this
molted cicada shell
...
(we're pretty sure that's what it is)

(you can click on the image to see it larger)
It was interesting to learn more about it.
God's creation is so fascinating!
Oh, while we were at the park my beloved called!
It was a blessing to talk with him a little while! ;o)
Tomorrow we hope to spend most of the day sewing.
It's been a little while since we've sat down to sew
and we are looking forward to it.
I hope y'all enjoyed your day!