It has seemed like a long
and physically exhausting week
but, oh, how worth it
to be in God's house so often,
hearing God's powerful Word being preached,
seeing the Holy Spirit convict, challenge, and encourage,
with an additional blessing of
beautiful, Christ-honoring music
and sweet fellowship with like-minded brethren!
It has been a wonderful week during this revival
and my heart has personally been revived!
What a way to bring our revival services to a close
by sharing the precious and powerful message
of God's abundant, yet undeserving, grace!

The main text from the sermon:
"All we like sheep have gone astray;
we have turned every one to his own way;
and the LORD hath laid on him
the iniquity of us all."
~ Isaiah 53:6

Such a powerful Scripture
that we should meditate on often.

He broke this verse down into four segments:
1. The waywardness of man
2. The willfulness of man
3. The wickedness of man
4. The Wonderful Savior of man

A simplistic, yet powerful message.
And the special music set the tone for the message,
which was an additional blessing.
I just love how the Lord orchestrates!
Let me explain...
This week, Ally was not feeling well
and was unable to play our special music
that we had planned for Tuesday evening,
so we planned to do it Wednesday instead, Lord willing.
Because she had not been feeling well,
she was too weak to play the song we originally planned
because it was a little too intense to play
while she was feeling weak
so I chose another song the Lord had laid on my heart.
I wasn't sure if it had a whole lot to do with
the particular topic of revival (at the time)
but the Lord used it in my own heart last night
and it just so "happen" to be the same 'theme'
as the evangelist's sermon.
My heart was so stirred.
What a blessing it is to have your heart stirred!
(The song we did was a different arrangement of
"Amazing Grace" with "Grace Greater Than Our Sins")

After the service, we stuck around for
wonderful food and sweet fellowship.
Did I mention that we love fellowships?!
It's such a blessing to fellowship with our spiritual family!

We had lots of yummy food! Mmmmm!




Ally was particularly excited!
Our visiting evangelist was an additional blessing to us,
as he fixed/replaced the string on Ally's violin,
tuned it for her, and gave her some tips
(as well as one of his violin arrangement books for free!).
What a blessing that was!
She was so thrilled to play it, again...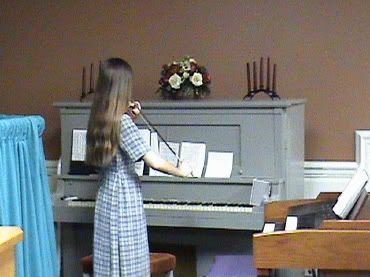 The younger ones were tickled to watch him
as he emptied his musical glasses...


I think there were a few splashes here and there... ;o)
And they were thrilled to help by carrying
bowls of water to the bathroom sink to empty.

Will was delighted to help the men-folk
as they cleaned up the evangelist's other instruments...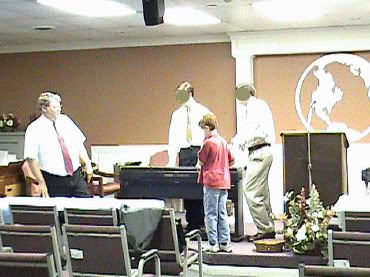 We, eventually, made it home around 11:30. ;o)
But it was worth it!
And when we arrived home, we had a package
containing our 'official' first school book of the year
(we received a few more today, too!)
and a box from Gramma
with gifts for Beth's upcoming birthday.
Woo hoo! Gotta love mail. ;o)

What a delightful and blessing of a week we've had!
I hope y'all have enjoyed yours, too.

In closing, I thought I'd share a little video
of our evangelist encouraging Ally
that her violin is, indeed, capable
of playing beautiful music
(and can, also, be used as a fiddle). lol
I particularly liked Ally's reaction
But that's just the mama in me. ;o)