Today I was able to catch up (a little)
on some paper work, bills, phone calls,
making a menu and a grocery list,
washing our colonial clothes for tomorrow,
and running a couple of errands.
We were excited today to, finally, get our window fixed!
Woo hoo! Now we can get back to watching
the birds in our backyard better!
Also, today we were able to visit
a new-to-me thrift store.
I found a couple of things there
that I hope to share on Friday. ;o)

Here are a couple of photos of the children today...

Ally enjoyed playing piano
(which I always enjoy, too)...



The children were very eager to play
with their toys in water,
so I filled up a bowl with water for each of them...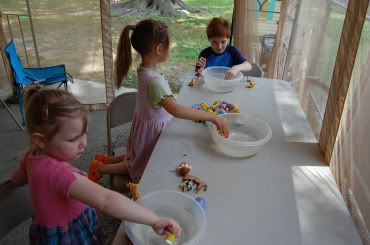 Tomorrow we plan to take a mini-trip to visit
a place that will be having a dramatic reading
of The Declaration of Independence
(colonial style)!
We are excited to attend (in our colonial clothes)!
Then in the evening we will be at church
for our mid-week Bible study and prayer service.
What a wonderful day to celebrate our freedom
by being in God's house
(Who is the Giver of all freedom)!