Today was another early morning
as Will and I headed to the golf course
for day 2 of his junior golf clinic.
I am so thankful Will delights
in making coffee for his mama.
It sure was nice to have that this morning,
especially after a night of interupted sleep
due to thunderstorms.

It was a humid morning at the course
and I was thankful to have a pavillion
available to use for shade.
Will's time at the golf course today
was spent at the driving range...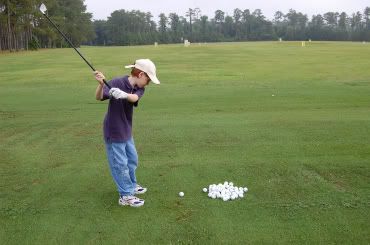 The instructor spent a some time working with him, too...


He had a great time and learned a bit today
but he was thankful to get out of the heat and sun. ;o)

Back home, I was able to work in the house more
and chisel away at Mount Washmore.
Carolynne enjoyed pushing the baby in the buggy...



Beth serenaded the house with beautiful toddler music...



Ally, too, filled our home with beautiful music... ;o)




We had friends come to visit around lunch time.
Will enjoyed a game of chess...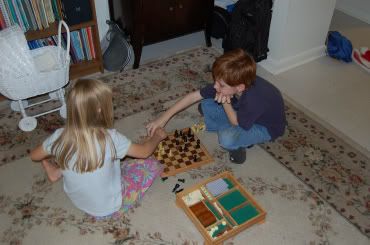 The lil' girls played with their toys...


They love to fill up buckets, baskets, and bags of toys
to bring down to the living room to play.
I love how they want to be where everyone else is. ;o)

Ally and friends worked in the kitchen
to make some cookies.
She was excited to use a new cookie press we purchased...



She loved how they were able to make
the different shaped cookies
and how easy it was to do it...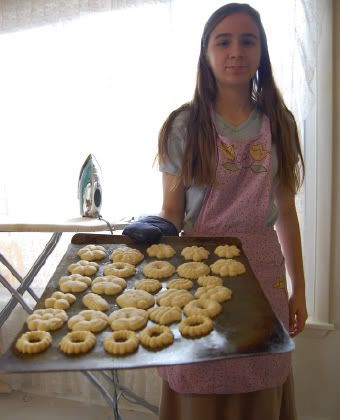 Carolynne enjoyed watching her big sister
as she made the chocolate cookies...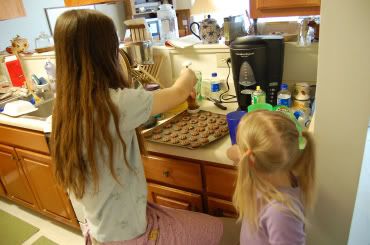 And we learned that cookies
are not for eating only...


LOL... well, the children sure got a laugh!
This afternoon, I was able to finish
the set of curtains for the living room
and get them hung up...
(I couldn't get a very good photo
but these, below, can be enlarged)


I was glad to get them finished
and hope to work on Will's last curtain
sometime later this week.
Tomorrow is another busy day.
Day 3 of Will's golf clinic, a few errands in town,
helping in a neighborhood Bible club,
and then church in the evening.
Looks like we'll, also, be in for
another night of thunderstorms.
I hope y'all are enjoying your week. ;o)