Tiany
is hosting a Homeschool Open House
and I thought it would fun to participate.
Plus, she has some wonderful possible prizes. ;o)
If you'd like to participate, be sure to visit
her post
.
Welcome to our Haven at Home!
Who We Are:
For those that do not know us,
we are a Christian, homeschooling,
active duty military family.
We have been blessed with four precious children,
ages 3(dd), 4(dd), 9(ds), and 14(dd).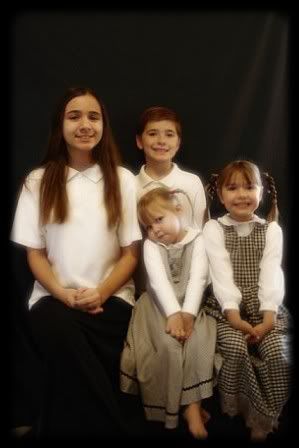 We are about to enter our 9th year of home education.
We LOVE having our children home with us
and would never want it any other way. ;o)
Our Approach ...
We enjoy a relaxed, mostly living books approach
in our home education endeavors.
We have a 'skeleton' of a routine
but take full advantage of impromtu learning moments
and adapt to anything else that arises.

I like to begin our day together
with Bible and breakfast,
a little house blessing (picking up),
and then proceed to our learning moments.
My goal is to keep our 'official' learning moments
during the morning hours
with having nature study
and 'enrichment' times in the afternoon.
However, I am quite flexible
and we adjust where needed. ;o)
I often reevaluate our 'skeleton of a routine'
and rearrange when necessary.


Where We Learn...
Our learning is never limited to one room,
nor limited to indoors. ;o)
We tend to be in different rooms at different times.
There is no pattern in where we choose to learn.
We simply learn where we feel like learning at that time.

Many times, we use our dining room table...



Or we'll spend time in the room
that we fondly call our Reading Room...

Or in a bedroom...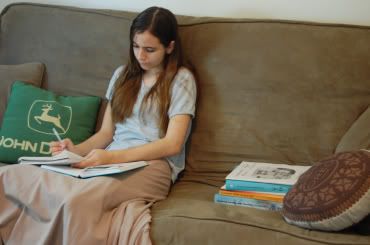 Or outside...




Even in the van...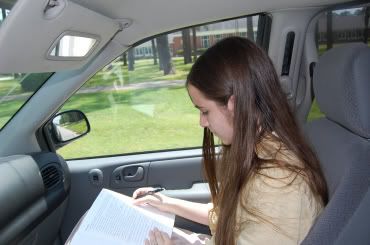 I would have to say, though, that our favorite place
would be the living room couch...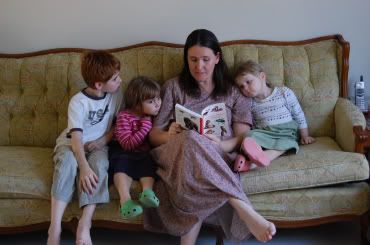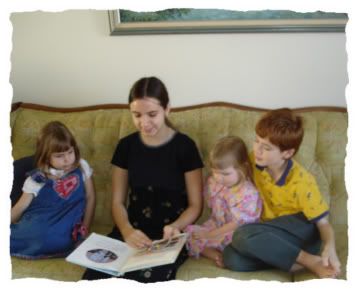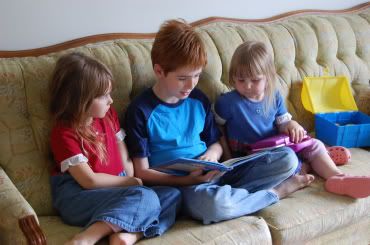 Those are really precious times!
What We Use...
I'll begin with what we do not use...
We do not use a set curriculum.
We piece together our own, personal 'curriculum'.
Each year is different.
We evaluate what we accomplished the year before,
what our interests are, what our goals are,
what we have available, etc...
Sometimes we change gears during the year
and decide to do something different
than originally planned.
This may not work for all but it works for us. ;o)

This year, we will be using much of the same plan
that we drew up for last year
with a few adjustments.
I am still in the planning stages
but below is a bit of a rough draft of our
upcoming intended 'curriculum'...


Science:
(with all)


Handbook of Nature Study
"The Country Diary of an Edwardian Lady"

, Edith Holden
"Birds and Blooms" magazine
Nature Study/Journals

(for 9 year old/4th grade)
Burgess' Nature Books for Children,
by Thorton W. Burgess


The Holling C. Holling Series




(for 14 year old/11th grade)
Apologia's

Advanced Chemistry in Creation






Math:

(9 yrs/4th grade)
Math Facts for Copywork




Ray's Primary Arithmetic


Multiplication to Classical Music
Misc. Math Games
Online drills

(14yrs/11th grade)
likely,

Teaching Textbook

's Pre-Calculus
History:
(all)


Learning Through History

magazines

(9yo/4th grade)
Finish current Beautiful Feet Books
American History living books list (still compiling)
Ancient history-

History Pockets

and living books


Modern Rhymes for Ancient Times

series


Galloping the Globe


Book of Centuries/timeline
History/Geography Games

(14yo/11th grade)
Finish

Starting Points

, David Quine
(will give American History credit)
Worldview course (mid-year)
finish

Mystery Of History 2


Living Books

Language Arts:

(all)
possibly

Teaching Writing: Structure and Style, I.E.W

.
Bible study/memorization
Poetry study/memorization

(9yo/4th grade)
copywork/narration
Language Lessons for the Elementary Child
possibly

Phonetic Zoo



(14yo/11th grade)
continuing in Starting Points
focusing on Literature

Music Study:
(all)
"Battle Hyme of the Republic" (Color the Classics)
John Newton (Color the Classics)
Wolfgang Amadeus Mozart
Ludwig van Beethoven
possible composers to be decided
Learn a hymn a week
Hymn history

(9yo/4th grade)
Beginner piano lessons at home

(14yo/11th grade)
Daily piano playing and progression
Violin lessons via video and daily practice
Guitar lessons via cd continued
Singing lessons/practice with Mom and via video

Artist Study:
(all)
Mary Cassatt
Leonardo DiVinci
more to be decided
personal painting/drawing

Bible/Character Study:

(all)
Proverbs Time
Family Bible Reading

(9yo/4th grade)
Daily personal Bible reading/prayer time


The Squire and the Scroll




Life Lessons from the Squire and the Scroll


"Anecdotes for Boys"

(14yo/11th grade)
Daily personal Bible reading/prayer time
"A Practical Directory", Harvey Newcomb
"Anecdotes for Girls", Harvey Newcomb
"How to Be a Lady", Harvey Newcomb
Miscellaneous, chosen by child/parents
Personal Reading/Addition Literature:

(Read alouds for all)
"The Little Preacher", Elizabeth Prentiss
"The White Knights", W.E. Cule (Lamplighter)
"A Girl of Limberlost", Gene Stratton-Porter
"Twelve Youthful Martyrs", Esther E. Enock
"Her Mother's Bible", Isabella Alden
"Hedge Fence", Isabella Alden
"Autumn with the Moody's", Sara Maxwell

Individual reading list to be decided



We, also, plan to begin a few informal
learning times with the lil' girls.
We are still, somewhat, in our planning stage
but this has been a rough draft of our plans.
We will sometimes make changes in the year
to better suit our needs and such
or if I find a resource on our bookshelf.

Tips and Tidbits:

*
Approach and continue in fervent prayer.
We desperately need God's guidance and help.

* Keep our focus on why we have our children at home
and keep an eternal perspective,
not allowing academic pressures to distract our main goal
of raising our children for Christ.

* Begin/continue to read books on home education.
(I have a few recommendations in my sidebar)
There are many books available that can be a great help
in encouarging us, motivating us, teaching us, etc...
It is worth the time to sit, read, and be refreshed.

*Learn with them.
Home education is a way of life.
What a joy it can be to learn right along with
our precious ones as they are learning.
They, after all, learn by example.
And we are never too old to learn a thing or two. ;o)

*Enjoy the moments with our precious ones! ;o)
Though it may not seem like it somedays,
our time with our precious blessings is quite brief.
May we enjoy them as the Lord intended.


Thank you for visiting our Haven at Home with us!
I look forward to visiting and meeting
other families that home educate!