Thank you to those
that were praying for our
trip today
.
We made it there and back safely
and even missed rush hour traffic!
Praise the Lord!

On our way there,
the children spent a lot of time reading...



(Carolynne looking at our Pictoral Primer
and a Beatrix Potter book waiting next to her...
I think it was Benjamin Bunny.)




(Beth looking through a Beatrix Potter book...
either Peter Rabbit or Jemima Puddleduck)




(Will reading Stuart Little.
He also had a few living science books he enjoyed.)


Before working on Chemistry,
Ally enjoyed the wind through her hair...


We all enjoyed listening to classical music
(our fine arts for the day),
our Harmony at Home cd (by Patch the Pirate)
(character studies and music),
and a story by G.A. Henty (read by Jim Weiss)
(literature and history).

It was a blessing that both doctors
were able to see us earlier than our appointments.
We are awaiting lab results
and will be returning for more tests.
We were glad to hear the endocrinologist
say that she thinks we may be able
to start weaning Ally off of her thyroid meds
(as long as the labs come back okay).
That is a wonderful praise!

We finished up with our appointments and such
around 3:30 and were able to miss
the majority of the rush hour traffic! Woo hoo!

On the way home,
Will continued to read Stuart Little.
Ally was tired and found rest...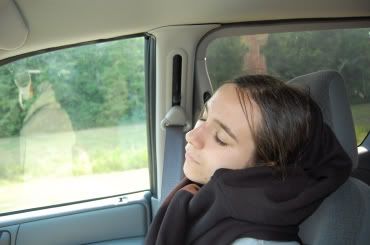 Carolynne, too, fell asleep
and Beth sat, relaxing...



We were glad to arrive home this evening
and the children were thrilled to run around outside
and then head to bed. ;o)
It was an enjoyable day, though,
and we are thankful the Lord blessed and protected.