For us, it was a day spent mostly indoors,
aside from a quick trip to the post office.
The skies got darker in the late morning
and we enjoyed scattered showers
and low rumblings in the sky most of the day.
It was a good day to be indoors...
and I had much to do in our home.

I was able to accomplish a few loads of laundry,
clean the kitchen, and do a little sewing.
Ally took advantage of the time
and worked on a few chemistry experiments...



The younger ones entertained themselves
with some toys they hadn't used in quite some time...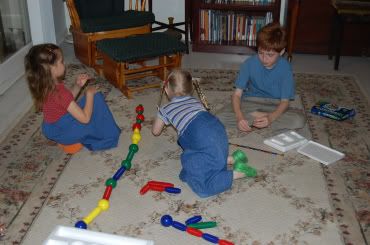 After her experiments,
Ally worked on her new dress...


I helped her with her bodice
and she helped me, later,
by sewing one of Will's new curtains. ;o)

After I helped her,
I sewed some quick curtains for the lil' girls room...



As Ally worked on one of Will's curtains,
I worked on the curtains for our living room...
and I had a little helper...



I only finished one for our living room
and Ally only finished one for Will's room
but we hope to finish them soon.
Why am I making so many curtains today?? lol
Since we can't paint the walls in base housing,
I thought it was way past time that
I 'spruced' things up otherwise.
They aren't fancy curtains, mind you,
but they'll add a cozy touch to our home. ;o)
I hope y'all are enjoying your weekend
and have a blessed Lord's Day tomorrow.