I hope y'all are having a good week.
Ours has been good, though continually busy.
Yesterday we drove about an hour away
to have a checkup with the peds neurologist
for Ally and the 'issues' she's been having this year.


After being a little 'misplaced, we arrived safely. ;o)
Since all of the tests have returned normal this year
and her thyroid issue has seemed to dissolve,
he suggested the possiblity of fibromyalgia
though he did not diagnose her with it per say.
He does, however, want her to try physical therapy
and be treated there as a possible fibromyalgia patient.
I plan to look into that next week, Lord willing.
After our appointment, we were excited
to enjoy lunch at one of our favorite places
(since we don't have one locally)
and then headed home to make some thing
for the fellowship we were having after church.
We were home for about two hours
and then left the house early
in order to miss the neighborhood's festivities.
To pass the time by,
the children and I ate lunch at the park
and played before heading to the evening service...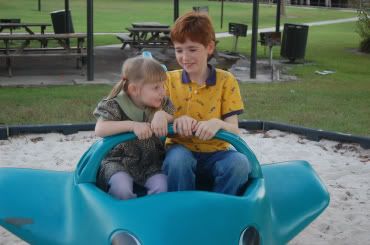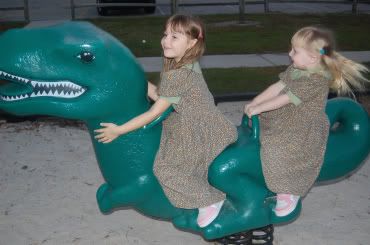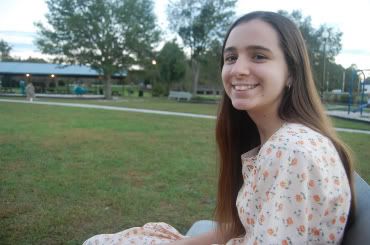 Today Ally had a dentist appointment
and we had to make a run to the store.
Funny how that can seem to take up most of the day.
We have been able to accomplish
some things this week, though. ;o)

Here were a few pictures of the children this week...


Ally hard at work.




Will hard at play. ;o)




Beth and Carolynne hard at creativity.


The lil' girls, also, learned a new matching game this week.
A game that Mommy, particularly, appreciates
for children to play...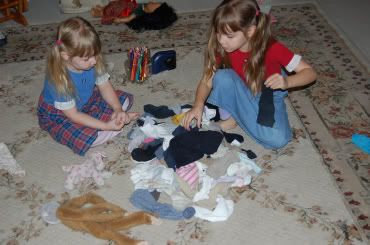 Matching the socks game!
I dumped the box of unmatched socks on the floor
and let them sort through and match them.
Dare I say that they enjoyed it??
They did! ;o)
Afterwards, they used the ones that remained unmatched
as collars for their stuffed dogs. lol
I was delighted to see they made the most of it.
Tomorrow we have a homeschool park day
and, possibly, an afternoon with friends.
Saturday we have a field trip to a local, working farm
that we had to reschedule from last week,
due to the rain.
Sunday is Anniversary Sunday at our church,
as we celebrate the church's 8th anniversary!
We look forward to those events
and to calmer days, Lord willing.
I haven't found a lot of time to respond
to questions or comments lately
but I do hope to when I am able.
Thank you for understanding. ;o)
I hope y'all have an enjoyable day tomorrow.
Oh, and just because I'm thinking of my beloved,
I thought I'd share a photo he sent recently...

I LOVE YOU, Honey, and miss you!!

"Blessed be the Lord, who daily loadeth us with benefits,
even the God of our salvation. Selah."
~ Psalm 68:19