Our week continues to be somewhat slow
but somehow busy at the same time. ;o)
Yesterday we took Ally to the chiropractor,
went to our local supercenter to pick up a few things,
then to the music store to get a shoulder rest
for Ally's violin.
Then yesterday evening,
after the younger ones were in bed,
I was able to use our new sewing helpfuls...



A few have inquired how I liked them.
Ally loves the new tools.
I love being able to use the mat and the rotary cutter,
however, I have found that I need
to work around the weights,
which isn't a big deal really, just an adjustment.
I just have to be careful
not to bump into the weights
when cutting.
I have really found the smaller cutter
to be quite helpful in those curvier areas. ;o)

(Thank you, Pam)
I was glad to get both girls' dresses cut out
and, since I was having fun with the rotary cutters,
I decided to go ahead and cut my scraps of the material
into different size quilt pieces for possible future use. ;o)
Ally and I, also, learned another use for the weights


(I don't know why I do this to myself)

...



Word of advice... if you ever do this,
be sure to have the 'pokey part' facing outward. LOL

Anyhoo...
Today the children enjoyed doing some academics
as I worked on getting some laundry done
and a couple of "handyman" projects completed.

Will did some copywork and science,
as well as reading a couple of history books...



The lil' girls sat at the table, too, and colored together...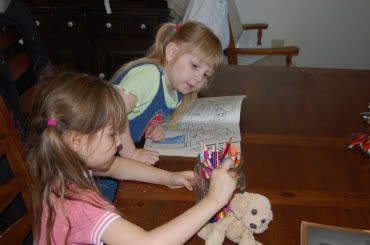 Ally worked on her advanced chemistry,
worldview, history, and violin.
When I checked in on her, she was reading aloud
a Shakespeare play for history (and literature),
which she enjoys to do...




Later in the afternoon,
the children enjoyed the beautiful weather
by going outside to play...



As Ally played piano...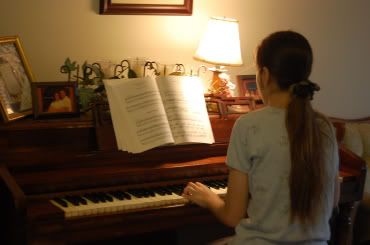 Meanwhile, I worked on those "handyman projects".
First I finished putting blinds in the dining room window...
(before...)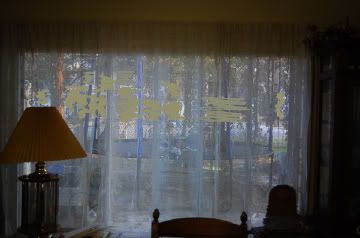 (after...)



Why it took me all year to get motivated to do this...
I have no idea. I was so glad to get it done, though.
It was no easy task either.
Apparently, it's a lot harder to put the screws
into the paneling (or whatever it's called)
that's on the inside of the window frame.
After, at least, three warped screws
and the manual screwdriver
(not to mention sore muscles)
I finally finished! It was worth it, though. ;o)


Then, outside, I finally got around
to putting up our retractable clothes line. (yea!)



I put it up between the side of the house
and the big live oak tree...



Then hung Will's new suit items on it to dry...


LOL... Guess I need to find those clothespins. ;o)
Ally helped her mama out by making supper...
a ground turkey, rice, and green bean casserole. Mmmm.
Then what a blessing it was to be
in the Lord's house this evening!
I hope y'all are enjoying your week, too. ;o)
"Looking for that blessed hope,
and the glorious appearing
of the great God and our Saviour Jesus Christ"
~ Titus 2:13