The past couple of days
having been busy with home educating,
home blessing, church gathering,
outside playing, Christmas dress sewing,
dentist visiting, and more. ;o)
It has been a blessing to spend
quality time with the children.

Our adventures in home education
have been rich this week.
We have been enjoying what we're learning very much!
We have, also, been blessed by reading
in the book of John this week.
It has taken us almost all week
to get through the first chapter
but what a blessing it has been.
We have, also, been able to read
our "Summer with the Moody's" more
and are drawing near to the end,
already anticipating the next book. ;o)

I thought I'd share a few photos
from the last two days.
The children have really enjoyed their learning.

The lil' girls have been motivated
to get a 'preschool type' coloring/workbook
off the colorbook shelf to work on together...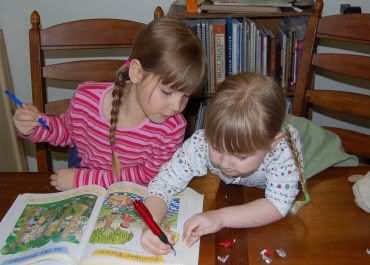 Mostly dot-to-dots but Beth has delighted
in helping Carolynne recognize her alphabet more. ;o)

Today, after dot-to-dotting, I worked with them.
Carolynne enjoyed working on colors and line drawing
while Beth enjoyed copying her letter 'B'...




Here was Carolynne, gladly showing her hard work...




Beth and I, also, read a poem together
(Carolynne listened in as she colored).
We read a poem about a fuzzy caterpillar
and then she drew her own picture
of a caterpillar and a butterfly


(though she wasn't interested in posing with it, as Caro was)...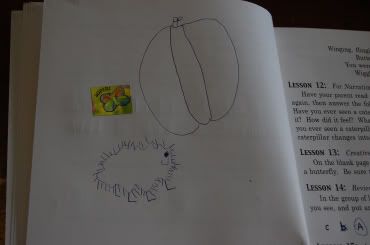 Will and I have continued reading
about George Washington,
which we have enjoyed SO much,
though Will was already more knowledgable about him
than I have ever been.
Will LOVES history!
We have, also, been reading our Burgess Bird Book
and our Handbook for Nature Study,
which has been a delight!
We talked about blue birds and robins today
and learned a lot about them,
including that they are cousins.
Yesterday we finished talking about
the different sparrows.
We got to watch one this afternoon
as it was treating itself to supper...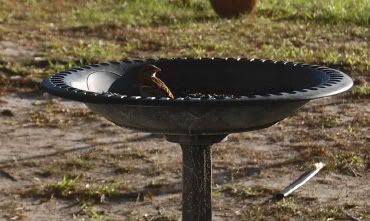 Birds are so fun to watch!

Will has been diligent in taking the initiative
in doing his copywork in language and math each day,
which has been a blessing...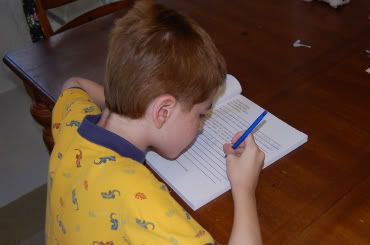 He has, also, been faithful in practicing piano
and is enjoying it very much...




Ally has been eagerly working, too.
She has been practicing/playing piano and violin
and working diligently in her academics
(including worldview, history, literature, and science).
When checking in on her yesterday,
I found her working on her advanced chemistry...



When checking in on her this afternoon,
she was working on... you guessed it...
advanced chemistry...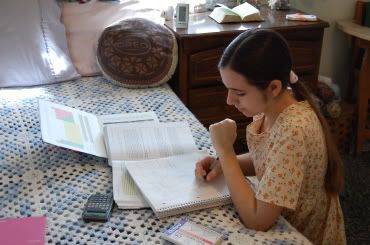 She even took it with us, this evening, to the dentist!
She is thoroughly enjoying it.
She cracked me up earlier this week...
She mentioned how she didn't really care for her math
and claimed it was more like logic.
I was aiming to give her something a little more relaxed
for math this year so she could focus on her other subjects
so I went with a book called Mathematical Quilts
and a book about the history of math.
I thought with the Mathematical Quilts
we might use it for more than math,
perhaps, um, quilting? It was a thought. ;o)
Well, Ally, proceeded to make a request,
respectfully, and backed it up with logic.
She asked if, instead, of her current math
would I be willing to get her
Teaching Textbooks' Pre-Calculus! lol
She proceeded, logically, by stating
the pre-cal would help her in advanced chemistry.
I could not help but chuckle from being delighted
with her eagerness to learn more.
This will be presented to Daddy,
which, I'm sure he will chuckle in delight, as well.
We'll see what happens, though. ;o)


With being busy with teaching, reading aloud,
housekeeping, home improvement projects
(like fixing the pencil sharpener in the wall,
taking the pot rack down from the ceiling, etc...),
and among other things,
I haven't been able to accomplish as much with sewing
as I had initially planned but I have made some progress...


Slowly but surely. ;o)
This evening, after our dentist appointment,
we stopped into our local fabric store
(other than the local supercenter).
They are having a sale this weekend
with Butterick and McCall's patterns at 99cents,
so we picked up a few.
Before I go, I wanted to share this...
On the way home,
I was taught a lesson on mercy from 5 yr old Beth...
She was the only one to see the dentist tonight
so she was the only one to pick a prize from the drawer.
On the way home, Carolynne insisted
(in an aggressive 3 year old way)
that she wanted the toy.
Beth had just gotten the toy and wanted it,
at least for a little while before she handed it over.
Carolynne was quite persistent and loud
(as I was driving down the road, mind you).
I declared to Carolynne that she needed to
stop whining and to be understanding to
let Beth play with it peacefully for a while,
then she would share.
Carolynne proceeded to declare she wanted it now
(in her 3 year old way).
I, again, spoke and told Carolynne, firmly,
that she may NOT have it
and she may NOT ask for it, again.
Yes, I admit, I was less tolerant
and a bit annoyed.
It was quiet, then, for a little while.
Then I heard a little commotion
and discovered that Beth
had given her toy to Carolynne, after all.
I appreciated her kindness
and willingness to share
but, in the flesh, was still bothered
that Carolynne had gotten her way
and instructed Carolynne
that she needed to give the toy back.
Then Beth spoke up and sweetly said,
"Mommy... It's okay with me if Carolynne has it.
I just want to make God happy."
It was quiet, again, and my heart was touched
(and convicted).
Here I was 'sticking to my guns'
(which isn't, neccesarily, a bad thing at times),
convinced that Carolynne should not have it
because she was whining and pushing her way.
And the truth is... she really didn't "deserve" that toy
but Beth wanted to show mercy and kindness
to the one that she loved
and was willing to sacrifice for her.
My heart was moved by her willingness.
It was a precious reminder and example
of love, kindness, and mercy
And I was, of course, reminded of how Jesus Christ
showed his mercy and grace toward us
by leaving Heaven and all its glory,
to come to Earth, to willingly sacrifice Himself for me
(and for you),
even though I didn't deserve it
and how He offers His salvation freely.
"For God so loved the world,
that he gave his only begotten Son,
that whosoever believeth in him should not perish,
but have everlasting life."
~ John 3:16
"But God, who is rich in mercy,
for his great love wherewith he loved us,"
~ Ephesians 2:4
"In whom we have redemption through his blood,
the forgiveness of sins,
according to the riches of his grace;"
~ Ephesians 1:7
"Being justified freely by his grace
through the redemption that is in Christ Jesus:"
~ Romans 3:24