It was cold and breezy
with much needed rain today
and it
was one of those days
that I could have stayed in my jammies
with a hot cup of coffee.
I did just that most of the morning
as I made out our menu and grocery list.
In the meantime,
the children did copywork and coloring
and Ally worked on her academics.
Then this afternoon,
we braved the weather
and
went to a local health food store
to buy a few things
and then went to the commisary
for our bi-weekly grocery shopping trip.
Afterwards, we ran into the library
to look for a specific something
and, somehow, exited the library
with a whole lot of other 'somethings'. lol
The children were excited to have
a few new books to read.
Ally was thrilled to see her

new math
sitting at the front door.
She is eager to begin her

pre-calculus

. ;o)
That was the bulk of our day today.
Tomorrow, Lord willing and weather permitting,
we will be having our homeschool park day.
This is a day the children always look forward to,
as do the mommies.
Fellowshipping can be such a blessing. ;o)
Oh, we were excited to learn this week
that
a photo we submitted
was

chosen as winner in a contest
that was hosted by
simplycharlottemason.com
.

I was thrilled and thankful to receive
one of their
ebook
s as a prize
and look forward to reading it. ;o)

The photo was taken by Ally...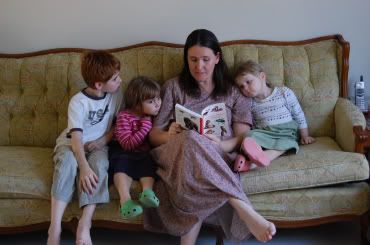 (this one is very similar to the one they chose but not exact)
There were many wonderful photos submitted.
We enjoyed looking through the slideshow they provided.

I hope y'all are enjoying your week!
"The LORD hath appeared of old unto me, saying,
Yea, I have loved thee with an everlasting love:
therefore with lovingkindness have I drawn thee."
~ Jeremiah 31:3