Today was a another beautiful, autumn day!
I am loving the weather very much!
I love to be cozied up in a warm sweater,
drinking a warm drink on a cool, breezy day!

Before heading out today,
I was able to get some laundry done
and some phone calls made
as the children enjoyed themselves
with coloring and academics...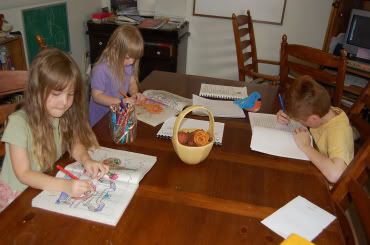 The lil' girls colored as Will did some copywork.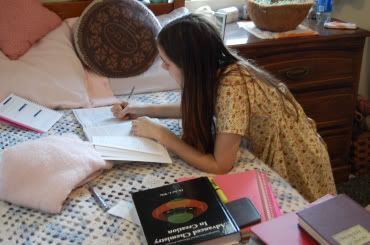 Ally worked on Advanced Chemistry and worldview.
This afternoon, we left to go to the post office
and to the commisary for groceries.
When we arrived home, we put the groceries away
and I prepared supper as the children played outside.
After supper we read another chapter of
"Summer with the Moody's".
I know it's autumn and we still haven't finished it
but I hope to pretty soon. ;o)
After the children went to bed,
I worked at cutting the

Christmas fabric
for my dress, using the new pattern that arrived today!!
I was able to cut most of it out, to my delight. ;o)
I hope to work on it more this week, Lord willing,
and then, whenever I finish my dress,
begin on the lil' girls dresses
and a matching bow tie for Will.
We'll be busy, but it'll be busyness at home,
which is a wonderful place to be. ;o)
I hope y'all are enjoying your week, too.
"Praise ye the LORD.
O give thanks unto the LORD; for he is good:
for his mercy endureth for ever."
~ Psalm 106:1