I wasn't able to post yesterday evening
due to internet connection difficulties.
Our day wasn't too eventful.
We, mostly, caught up on some cleaning
and had some very relaxed learning moments.

Ally gave Will his weekly piano lesson
(which has been such a blessing to watch
as they work together)...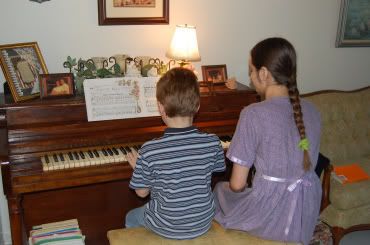 Beth and Carolynne were interested
in playing with our nativity set...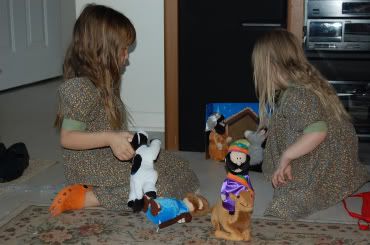 Later in the day, Mama was in need of some rest,
so while mama took a catnap on the couch,
the lil' girls read books on the floor with their babies
and Will read on the chair...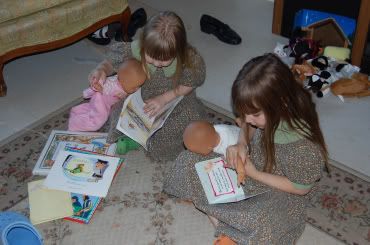 As I mentioned... not very eventful
but I was glad to sit back and relax and enjoy the children.
This afternoon will be a busy one for us
as we take Ally to the chiropractor and run a few errands.
I did, however, want to share what I was able to get
over the weekend to help in our sewing adventures.
Our local fabric store was having a 40-50% off sale
so I went in to see if there were a few sewing helpfuls
that were on sale that
Pam had shared
with me.
I was delighted to see they were all on sale! Woo hoo!
I was able to get a large cutting mat, the weights,
and a couple of cutters...


Ally and I look forward to using them this week
and, as

Pam stated

,
kissing our pins and scissors good-bye! ;o)
Hope y'all enjoy your day!
"This is the day which the LORD hath made;
we will rejoice and be glad in it."
~ Psalm 118:24