I hope y'all had a wonderful Thanksgiving Day.
We did. ;o)
As I mentioned in a

previous post

,
Wednesday evening, we had church service.
During the service, we sang many songs
of praise and thanksgiving
and had some time of testimonies.
It is always such a blessing to give praise
and hear praise to the Lord!
Pastor handed out a paper
with the word "Thanksgiving" on it,
written vertically,
and he and the congregation
offered words from Scripture and such
to name things we were thankful for.
It was a blessing to see the children participate.
One of the things Ally shared
was a verse and how she is thankful
for the strength that God gives us.
Will said he was thankful for our nation's liberty,
God's Word and he, also, mentioned homeschool. ;o)
Carolynne was thankful for
Daddy and Uncle Steven, who are in Iraq. ;o)
Beth, listening as Pastor said the letter,
said she was thankful for apples
when he said the letter 'a'
and she did similar with other letters.
I was tickled to see her naming things
that started with those letters. ;o)

After the service,
we had a Thanksgiving 'feast' and fellowship.
Lots of delicious food and fellowship
shared with the blessing of God's people.
After eating, Ally wanted to play her guitar.
Soon after she began, all of the children
surrounded her to sing along.
It was so precious to hear them all singing out!


I was so delighted to see them all having
such a wonderful time together.
A little later, Pastor joined in on the fun.
He played Ally's guitar while all the children sang more...


It is such a blessing to have a pastor that loves children.
He delights in being a pastor to the children
as well as the adults and that truly is a blessing.


On Thursday, Thanksgiving morn,
I started making phone calls to my family members.
I am thankful we have good relationships
and that we enjoy talking to each other.
My sister was the last call I made.
As I was talking to her, she was sharing
how she had finger foods, decorations, and such
all set out and she was anticipating
our mama's and grandparents' arrival.
As she was talking, it occured to me
that, somehow, I had become
a little more discouraged the past few weeks
that I had realized (or wanted to admit)
and remembered how much I did enjoy
Thanksgiving Day, including the 'hospitality' of it all.
So, with her encouragement, I got off the phone
and was determined to have a mini feast
for the children and I.
I sent the younger ones out to collect acorns
to make a centerpiece for the table....


They came in with lots of little acorns
and, also, a wide variety of colorful leaves
and a couple of pinecones,
all of which we put in the basket
and set on the table.

Beth helped to slice some cheese
to put on a platter...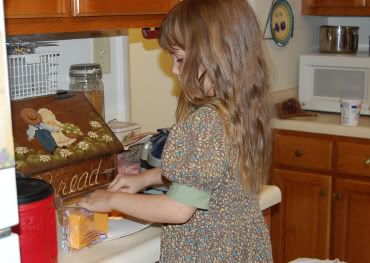 Carolynne put crackers on the platter
as the cheese was being sliced...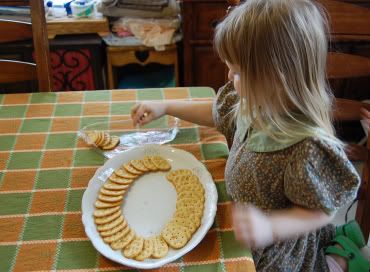 Ally made the Oreo fluff...



When the food was prepared,
Will and Ally set the table
and we, eventually (after some brief company Ü)
sat down to enjoy our feast together...



We enjoyed taking turns sharing some things
that we are thankful for
and took turns praying before we ate.
It is such a blessing to hear my children pray!

After supper, dessert, seconds, etc...
we cleaned up, put in our Christmas cds
and put up our tree together.
It was very enjoyable, though Daddy was missed.
They often said, "Daddy would like this"
and "Daddy would like that"...
It was sweet to hear them.

After putting up our tree,
we gathered in the living room
to decorate our mini-tree
with some special ornaments
while reading the nativity story from Luke
(and some in Matthew)...



As I read the Scriptures,
the children and I put the special ornaments on the tree...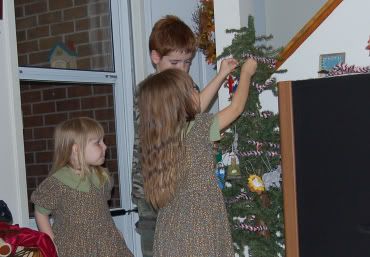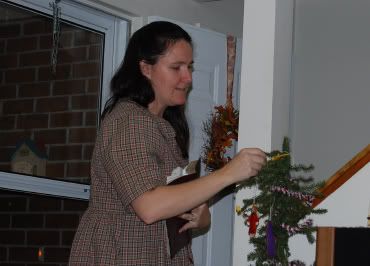 Afterwards, we sang "Away in a Manger"...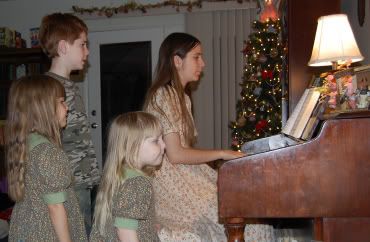 It was a precious way to end our evening.

Today we slept in a bit, cleaned house,
had lunch with friends, and just enjoyed one another.
Here are a couple of photos of the children today...


Carolynne and Beth coloring by the tree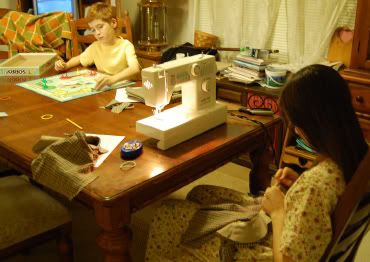 Will playing a board game
as Ally sews her dress for our upcoming family photos.
Tomorrow we have some friends
and some out-of-town friends coming for a visit.
We are excited about that.
I, also, hope to sew up the lil' girls dresses
so we can get our family photos done soon. ;o)
I hope y'all have a wonderful weekend, too!
"Make a joyful noise unto God, all ye lands:
Sing forth the honour of his name:
make his praise glorious."
~ Psalm 66:1-2