I hope y'all have had an enjoyable week.
It has been a bit of a busy one for us. ;o)
Yesterday, as I worked on some sewing,
the younger ones enjoyed the beautiful weather.
Here were the lil' girls exploring...



Will enjoyed riding his scooter...



And Ally enjoyed (yes, enjoyed)
blowing the leaves in the front yard...



When she was finished, the younger ones, of course,
had a wonderful time jumping into the pile of leaves.


They, also, enjoyed throwing a couple of toys in the pile
and then digging through the pile to find them,
until they came across a spider,
which took the fun out of it.

As they played in the leaves, Ally enjoyed resting
and looking through a new cooking magazine...



Meanwhile, I worked at putting up our new wreaths
along our front entryway...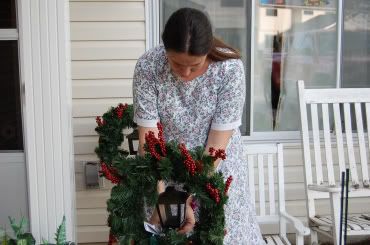 Here they are at night...

Today we met some friends for lunch
and they returned home with us for fellowship.
As the children played, the mamas enjoyed more sewing.
Sewing with someone is so enjoyable. ;o)
I was able to complete all of our Christmas clothes.
I even decided to make Will a vest to go with his bowtie.
I, also, had to add ties to the girls' dresses,
as they were a little big at first.
Here are the younger ones' finished garments...

(you can click on the photo to enlarge it)
I hope to get our photos taken this weekend, Lord willing.
The children and I have been enjoying
our new read aloud this week, too.
I appreciate the example of a godly family
that the book portrays.
I have found the children more compelled
to do certain things since reading this.
I have seen that they have been encouraged
to be more kind, helpful, etc...,
which has been a blessing.
I hope y'all enjoy your weekend.
"And let us consider one another
to provoke unto love and to good works"
~ Hebrews 10:24