I'm not sure about y'all
but we sure are enjoying the cooler weather.
Yesterday the children enjoyed playing
outside in the front yard.
Will was delighted to be able to ride his scooter
on the sidewalk...


So chilly that he needed a hat for his ears. ;o)

The lil' girls played frisbee in the grass
using a little plastic plate from their toy kitchen...



Ally enjoyed sitting outside on our rocker
while working on (you'll never guess! lol) chemistry. ;o)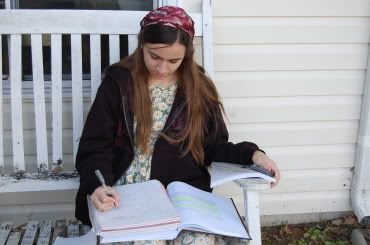 I sat reading some pages from
"

Homeschooling with a Meek and Quiet Spirit

"
before I loan it out tomorrow.
It had been a while since I read through it
and I look forward to reading through it, again. ;o)

Shortly after returning indoors, our friends showed up
for Friday fellowship and sourdough pizza.
Ally was excited to share her chemistry experiment...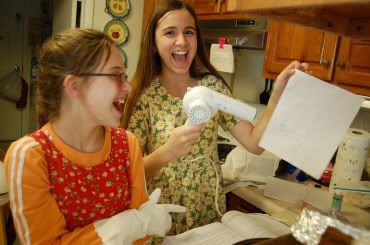 They were writing in "invisible ink",
using lemon juice and some chloride element that she has


(I will quickly admit that I know very little regarding chemistry)


and they were making it show up with heat.
Very interesting.
They sure liked it! ;o)

Later they were eager to try a new recipe.
They decided to try the new recipe
AND make sourdough pizza at the same time.
They enjoyed working in the kitchen together...



Ally even practiced her dough tossing...


LOL ;o)

The younger children enjoyed the trampoline
and then played quietly indoors.
The lil' girls were found playing chess...



And Will was reading a book
as he anticipated the upcoming pizza feast...




He is a growing boy, you know? Gotta keep him well fed. ;o)


Soon enough it was time to eat.
The girls did a great job on the pizzas and with dessert.
We had a nice time of food and fellowship.
The mamas were able to work on a little sewing
throughout the afternoon, too.

Then today I was able to work on my dress more
and get it completed...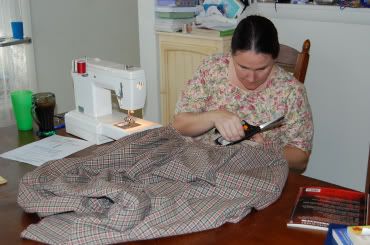 Here was the final project...


I may or may not add a tie back to it.
The pattern wasn't too difficult
(when I followed my own directions)
but I'll need to work with it to find my right size. ;o)
But all in all, I do like it.
I, personally, like the collar look
and hope to make more of these sometime.
Next projects will be the lil' girls' dresses
and Ally hopes to work on hers this upcoming week.
Also, today I was able to purge the lil' girls' room
of many, many toys
and I was quite surprised (and troubled)
how ALL but 4 small toys were made in China!
I was glad to part with the many bags of toys.
While I was at it, I also rearranged their furniture
and was, once again, reminded
that I am just not as young as I used to be
or that I think I am. ;o)
I hope y'all have enjoyed your week.

Now we look forward to a restful Lord's Day. ;o)
"LORD, I have loved the habitation of thy house,
and the place where thine honour dwelleth."
~ Psalm 26:8