A few weeks ago we ordered a pattern
from
Common Sense Patterns
for a new dress for Ally.
She's been working at tracing her pattern
and cutting out her fabric,
which she was able to finish today.
As she was finishing,
I traced the bodice of her dress,
altered it to fit me, and decided to sew up a dress
using her bodice and my skirt.
The bodice of her pattern had a band on the sleeve,
which I used a contrasting fabric
(but matched it with the skirt).
Here was the result....
(Oh, due to Ally's pleading,
I agreed to post the candid photos, as well)


Here, you may be able to see
the contrasting fabric a little better...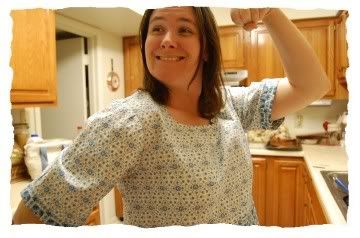 We hope to sew Ally's up tomorrow. :-D