My body tells me that I am getting older...
Especially when I spend a day (or few)
of constant cleaning.
With Ally being unable to do much these days,
I have rediscovered taking on the household
on my own (mostly).
I have also rediscovered that
recruiting my younger ones is quite fun
.
Will has been such a great helper!
He has been helping me with unloading the dishwasher,
picking up, taking out the garbage,
and numerous other things.
The lil' girls, too, have been quite helpful.

Last Tuesday
, we worked at cleaning up and out
the lil girls' bedroom
and they have done a wonderful job keeping it up.
So diligent!
I love to see their eagerness to help and please.

As I was cleaning in my room today
(since my mama and I will be 'bunking' together),
the lil' girls put on our dust mittens
and dusted all that they could.
What a blessing it was.
Ally was really down-for-the-count today.
In addition, to what's been going on,
she has taken on a virus or something.
So she spent the day resting and occasionally reading.
She is almost finished with
the entire "Anne of Green Gables" series,
which she started some time ago.

After lunch,
we spent some time watching the action in our backyard.
Last week, I put out a birdfeeder
and we have been much occupied since.
I knew I had put it too close to the ground
but I was hopeful that it would be okay.
Well... I did know better...
and that's why I shouldn't have been surprised
when we looked out the window and saw this...



Oh, the children couldn't help but laugh! (Neither could I)
I didn't want to laugh, though,
when I saw what else he was doing
besides collecting seed...



That's the picket fence that is supposed to be
on the birdhouse feeder.
Will, in his best efforts, ran outside with 'Old Betsy'
(a toy rifle named after Davy Crockett's rifle)
to shoo it away so the birds could eat,
but the squirrel is quite persistent.
The birds, however, do still manage to get seed
when the squirrel is away.

The lil' girls were thrilled to watch the tufted titmouse
that sat at the window...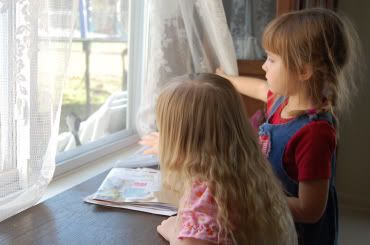 We also saw two other birds that we tried to identify.
I could only get a picture of one of them...
And we were unable to find them in our field guide.
I haven't looked online, yet,
but if anyone knows what type of bird this is,
we would love to know...



I'm off to enjoy some much awaited rest.
We are looking forward to Gramma coming
tomorrow night!!