Things seem to be at a busy pace this week,
which is a good thing.
We've been trying to keep busy and faithful
at implementing some things into our school day.
I still have, yet, to get on a timed routine
but it does not concern me much
as long as we are accomplishing some goals. ;o)
(and we have been... praise the Lord!)

We have been digging into Genesis 1 this week


(in addition to reading a Psalm each morning)

...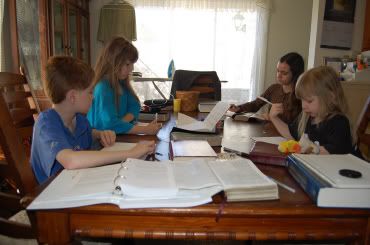 (This is Bible time one morning this week.)

We have enjoyed doing our copywork, vocabulary,
memory work, and other miscellaneous studies
from God's Word.
We've been using our dictionary and concordance, too,
which has been a fun blessing!
It has, also, been a blessing seeing the older ones
write their thoughts and pen prayer letters to the Lord.

Here is a sample of the younger ones copywork...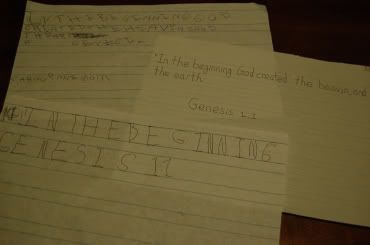 Here is a collage of the illustraions we did
for the days of creation...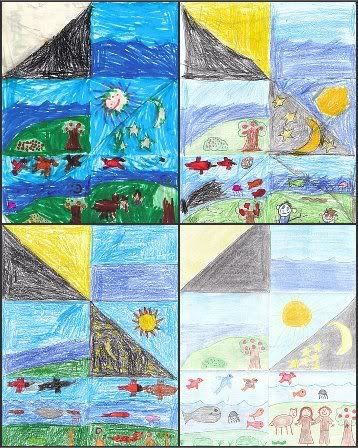 (top to bottom, left to right: Carolynne, Beth, Will, Mom)



We've, also, been working on our academics.
Here are the younger ones working on
their other 'homeschool work'...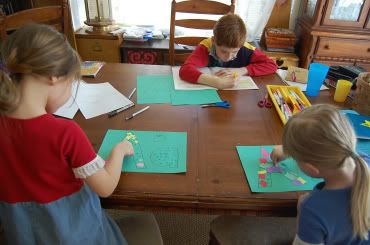 Will was highlighting important facts in Math
and Beth and Carolynne were having fun with letter sounds.

Here was Ally finishing up an experiment in the kitchen...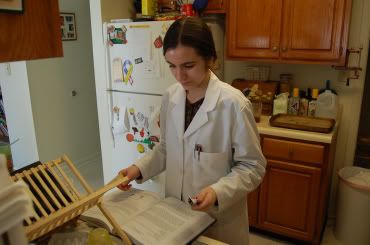 Yesterday we left the house to visit with

friends


that had returned from a long vacation
and to go to piano lessons that Ally teaches.
I was glad for the trip, as I was able to get
a few photos of the trees that are blooming...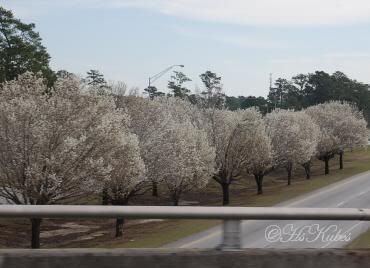 I believe they are Dogwoods(Bradford Pears). If not, I'd love to know. ;o)
(Thank you,
ladies
, for letting me know!)



Today, in the afternoon, our

friends

came for a visit.
The mamas sat, discussing our school plans,
while enjoying a yummy snack (well, lunch, really)...

(Yum! This is a dip that a friend introduced me to
quite a while ago.
I thought I hated sour cream
until I tried this dip! Mmm!)
It was fun to sit and brainstorm together
while enjoying a delicious treat and sipping ice tea.

The younger children enjoyed a picnic lunch outside...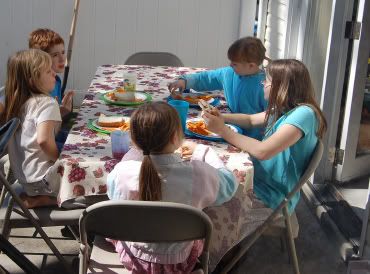 They spent most of the afternoon outdoors,
enjoying the beautiful weather.

The older ones did Bible study together
and enjoyed going through copies of Birds and Blooms...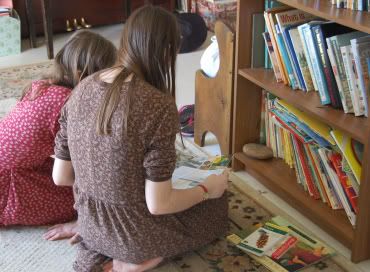 It's been an enjoyable and productive week,
though I've been struggling with the time change. ;o)
We look forward to being in God's house this evening.
What a wonderful oasis it is in this dry and thristy land!
I hope y'all are enjoying your week, too!
"For his merciful kindness is great toward us:
and the truth of the LORD endureth for ever.
Praise ye the LORD."
~Psalm 117:2
"Great is the LORD, and greatly to be praised;
and his greatness is unsearchable."
~ Psalm 145:3