Happy Monday!
I hope y'all had a blessed Lord's Day.
We had "Second Coming Sunday" at our church
and it was such a blessing to sing songs,
listen to God's Word being preached,
and focusing on His return!
Oh, what a day that will be!!


This morning, the children and I
continued our Bible time and began Genesis 3.
We read aloud, worked on our key Scripture for the week,
had discussion,
had vocab study, did prayer letters,
and illustrated what happened between Cain and Abel.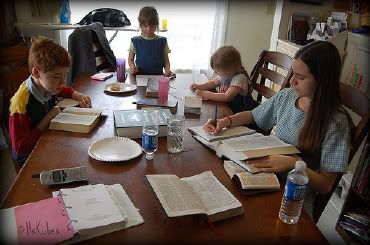 Later in the morning, we had friends visit.
We enjoyed fellowshipping and even enjoyed a visit
to one of our local dollar stores!

ooooh


We were able to find quite a few things,
as we were putting together a lab kit
for our upcoming science. ;o)
It was half the price to get the items ourselves
and we found almost all that we needed there!
We were rejoicing in God's goodness in providing!

Later in the afternoon, after returning home,
the younger ones were eager to use
their new bug containers and headed outside
to see what they could find...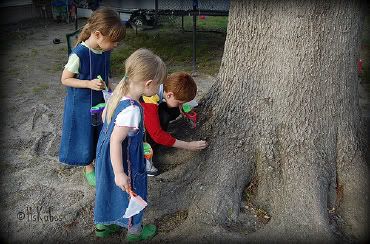 They were able to find an ant to put in the jar
and spent time observing it


(though it didn't do much but lay on its back and wiggle its legs!)

.
The, also, found a 'love bug' and a few sticks. ;o)
They enjoyed themselves, though.

Tomorrow will be a little busy for us,
as I have a scary dentist appointment
and Ally is teaching piano in the afternoon.
I hope that y'all have a wonderful day,
counting your many blessings! ;o)

"I will sing unto the LORD,
because he hath dealt bountifully with me."
~ Psalm 13:6