Happy Monday!
I hope y'all had a good weekend.
This weekend, we had a guest visit
and the children were excited.


Uncle Steven

returned home from Iraq about a month ago
and he was able to stop by on Saturday!

Here were Beth, Will, and Daddy with him
as they were having a Rubik's Cube Race


(the Rubik's cube is a big thing in our home)

...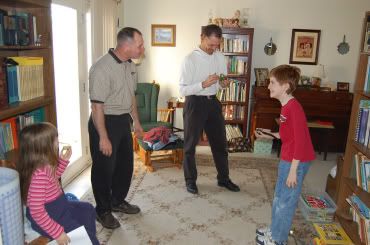 Carolynne was being a bit shy while he visited...


So she spent most of her time in the dining room
with Ally, as she was sewing.

Ally was working on her first apron
(two of them, actually. One for her and a friend)...



After our visit, the children were found
doing miscellaneous things...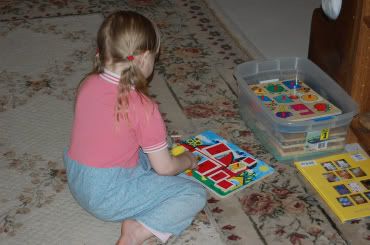 Carolynne was playing with puzzles.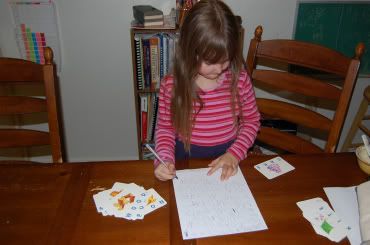 Beth was copying the words from all of the cards
that belong to our Boggle Jr. game.



Will was working on his latest masterpiece...
An American flag on a sunny day with birds in the sky.



Ally enjoyed working with photos.

Here is a photo of a mourning dove that she had taken...




Here is photo of one that I took during one of the
blustery days we were having.
It was all puffed up and its feathers
were ruffled from the wind...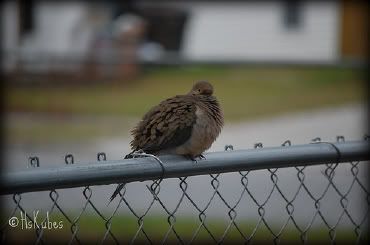 It was cute! God's creation always fascinates us!


Sunday was a wonderful day in the Lord's house.
In Sunday School, we were admonished to remember
that we tend to have false confidence in ourselves...
we plan our days, say we will do this or that, etc...
and how this is done in our pride
and that we really do not know what tomorrow will bring
and we need to trust Someone Who does.
I, also, appreciated a statement about
how we should be single-minded... on God...

"But seek ye first the kingdom of God, and his righteousness;
and all these things shall be added unto you."
~ Matthew 6:33

and our Heavenly Father will take care of the rest.

In the morning service,
Pastor spoke about why we should be

striving for the mastery

.
He only got to three points out of ten, so far,
but it was a real blessing!
He reminded how a Christian should not feel
that their life is meaningless because we DO have a purpose.
The three points he touched on about
why we should be striving for the mastery were...
because...

1.

God

is real
How is our faith?

"But without faith it is impossible to please him:
for he that cometh to God must believe
that he is, and that he is a rewarder
of them that diligently seek him."
~ Hebrews 11:6
We were challenged to examine
whether or not our lives show that
we do believe God is real
or do just our lips profess it.
One day we will stand before
the Real God and face real judgement.

2.

God's Word

is real
"But have renounced the hidden things
of dishonesty, not walking in craftiness,
nor handling the word of God deceitfully;
but by manifestation of the truth commending ourselves
to every man's conscience in the sight of God."
~ 2 Corinthians 4:2

God's Word isn't an option.
It is God speaking to us.
His Word IS our Authority.
He has the right to tell His creation what to do.
Can we say that we are doing EVERYTHING in His Word?
Of course not...
But are we striving to?
3.

Salvation

is real
"Blessed be the Lord, who daily loadeth us with benefits,
even the God of our salvation.
He that is our God is the God of salvation;
and unto GOD the Lord
belong the issues from death."
~ Psalm 68:19-20

He is the God of our salvation.
He gave me my salvation.
He IS my Savior.

The evening service was a blessing, as well!
And it went along with our "

Striving for the Mastery

" theme.
He began by telling us of certain monks in Japan that
take the challenge to run 1,000 marathons within 7 years!
(a total of almost 27,000 miles in rough, mountainous terrain)


He further explained some of the very difficult things
that these monks would have to do...
lack of food, water, sleep, exhaustion, fight off animals, etc...
praying 100,000 prayers in about a week of fasting,
among many other things.
He, also, mentioned how other religions
go through strict regimens of training
and sacrifice their time and, ultimately, their lives
to kill what they believe to be infidels...
Wicked and wrong, yes,
but they do it because of their faith in their religion.

Then Pastor led us to
Romans 12:1-2,
"I beseech you therefore, brethren, by the mercies of God,
that ye present your bodies a living sacrifice,
holy, acceptable unto God,
which is your reasonable service.
And be not conformed to this world:
but be ye transformed by the renewing of your mind,
that ye may prove what is that good,
and acceptable, and perfect, will of God."
What does our "religion" motivate us to do?
What sacrifices do we make?
What sacrifices are we willing to make for the One, True God?
What kind of living sacrifice before God are we?

What ought our living sacrifice to be?
... DOING the will of God
(see the above verse),
pushing everything out of the way
that hinders us from doing the will of God.
We cannot do the will of God
if we are tied to this world and the things in it,
which is why he tells us

"... be not conformed to this world
...".

So many people sacrifice SO much for their FALSE religion...
when I think of all they sacrifice, their disciplined lives,
and how they are so devoted to their religion,
I am ashamed at how little I do
for my Savior, my One, True, and Only God.
The Holy Spirit dealt strongly with me
and I am so thankful for it.

What a blessing it is to have a church home,
where a pastor does not just "tickle our ears",
but he preaches, boldly, the True Word of God.
"For the time will come when they
will not endure sound doctrine;
but after their own lusts shall they heap
to themselves teachers, having itching ears;
And they shall turn away their ears from the truth,
and shall be turned unto fables."
~ 2 Timothy 4:3-4

Before I go, I'll share a few pics from our Sunday afternoon...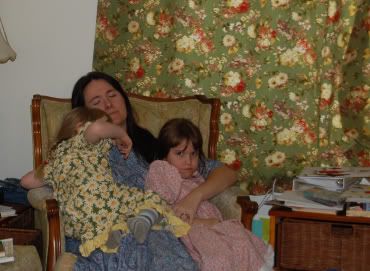 The girls relaxing with me on the chair


(Beth was starting to make a face at the camera)

.




Carolynne doing Daddy's hair as he rested.




Beth doing Daddy's hair, too.


(Her smile in this pic reminds me so much of her baby pics!)






Will practicing the techniques of the Rubik's cube
that Daddy taught him.



The lil' girls doing a piano duet together.
I hope y'all had a good weekend, too,
and that your day in the Lord's house was a blessed one.
May the Lord revive our hearts.
"Let us search and try our ways,
and turn again to the LORD."
~ Lamentations 3:40
"It is the spirit that quickeneth;
the flesh profiteth nothing:
the words that I speak unto you,
they are spirit, and they are life."
~ John 6:63