I certainly had wonderful intentions,
as I mentioned

yesterday

,
to get "on track" this week with our

, ahem,


sequence of events for our days


(a.k.a. s-c-h-e-d-u-l-e)

.

Though not quite in the order I had planned,
we did manage to get much accomplished
on Monday (praise the Lord!).
At breakfast, we had Bible time together,
practiced memorizing a verse for the week
("He must increase, but I must decrease."
~ John 3:30), and illustrating it.
Here were the younger ones
working on their illustrations

(Ally had already gone upstairs
to begin her work before this pic)...



Ally finished much of her work,
including Chemistry and History.
Will and I were able to do Science
(a chapter in our Burgess' Bird Book
and the usage of the field guide)

,
History

(read all of "The Courage of Sarah Noble")

,
worked on Language and Math.
I was even able to work with the

lil

' girls,
doing picture studies and narrations.

In addition, we enjoyed and marvelled
at God's creation in our backyard...



tufted titmouse



house finch





American

goldfinches



mourning dove



and, yes,

Nutkin

Squirrel, again. ;o)

Here was

Carolynne

showing us,
what appears to be, part of a nest
that, likely, fell out of our tree


(due to the blustery days we've been having)

...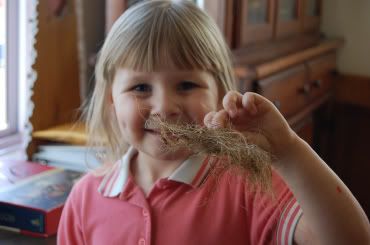 All in all, it was a very productive day on Monday,
though not quite on the time schedule I had planned


(but that was okay)

.


Today, however, we woke up quite a bit later
and, also, discovered that Ally and Will were
quite 'under the weather'.
Ally was feeling very yucky,
in addition to having a very sore throat,
and Will was feeling yucky, as well,
and had an elevated temp.
So Mama consulted with Daddy via phone
then proceeded to cancel piano lessons
and inform church we wouldn't
be there this evening for our

KJ

Conference.

Ally and Will took naps around 1:30
and, both, slept until around 5:30!
I was a little surprised but they sure needed it.




While they slept, Beth and

Carolynne

played quietly.
Here they were taking turns drawing...

Carolynne

Beth

They, also, helped Mama make some bread...



Here was

Carolynne's

photo of Mama...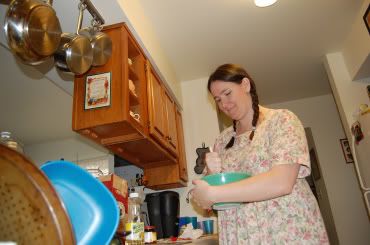 LOL
After stirring dough with Mama,
they celebrated outside on the trampoline. ;o)
When Daddy arrived home, we enjoyed supper
(chicken noodle soup and grilled cheese)
with him.
After supper, Daddy left for church
and, shortly after, the little ones headed to bed.
Now I'm off to spend a little time with Ally
before she heads to sweet slumber, too.
Lord willing, when health is restored,
we will, again, begin our 'routine'
but I do praise the Lord for interruptions.
Though Monday was a productive day,
today was a day of much needed rest
and recuperation, in addition, to
enjoying the blessing of home and family.
He knows just what we need!
I hope y'all enjoyed your day. ;o)
"Great is the LORD, and greatly to be praised;
and his greatness is unsearchable."
~ Psalm 145:3