We've had a busy week but have enjoyed it!
Below are some photos from our day yesterday.

Actually, here's one from Thursday evening...
The younger ones were being sled dogs,
using names and situations from the book
"The Call of the Wild" that Will read recently...


It was a delight to see their creativity!


Friday morning we met together for

Bible time


before we headed to our homeschool park day...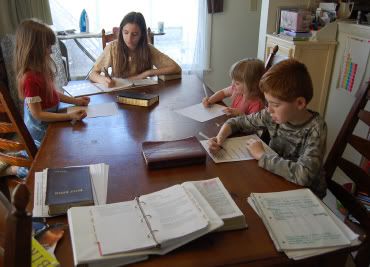 We were thankful for this park day
because it had been quite a while since our last one
(due to inclement weather and

going north

for a couple of weeks).
We were thrilled the Lord blessed us
with a beautiful day to enjoy the outdoors!

(so thrilled that I took an abundance of photos! ;o)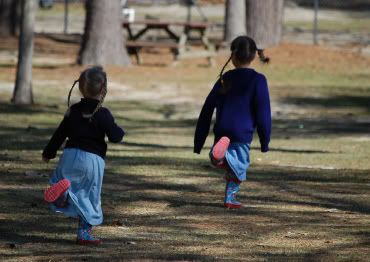 Beth and Carolynne excitedly running off to enjoy themselves.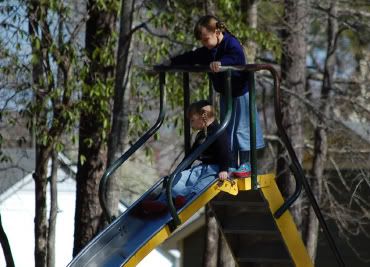 Playing on the 'big' slide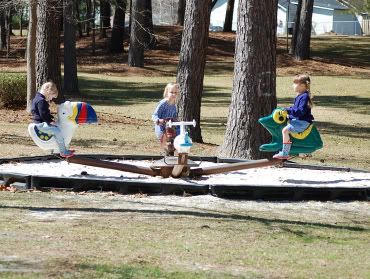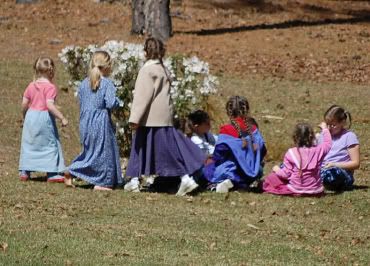 Many of the girls from our group were gathered
around these blossoms, picking and enjoying them. ;o)




Will swingin'

(and, obviously, happy about it, too!)

;o)



He, also, got to play a some football.


Ally and her friend filled the park with music and singing...


There were a few people at the park that were not
part of our homeschool group and it was a blessing to see
how the girls were still bold in singing aloud, enjoying it,
and giving praise to the Lord!

After our park day, we went to lunch with some friends.
We sat outside at the picnic tables, enjoying the day
and enjoying feathered company...


This little fellow was at the table next to us.
There were many sparrows there
and they were not shy about getting near us.
It tickled the children to have them be so close!

While we were there, the manager

(also our assistant pastor)


came out to talk with the children and gave them
some cow masks to take home.
The children found multiple uses for them, including this one...


LOL

We, also, visited with his wife and two brothers
which work there, as well.
The children were thrilled when they were given
a free ice cream cone, which they gladly accepted...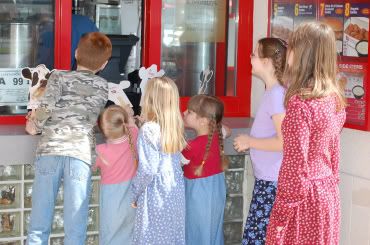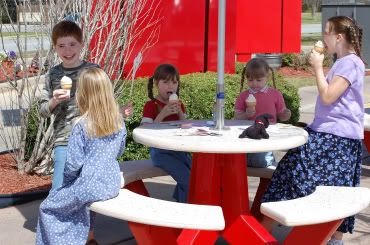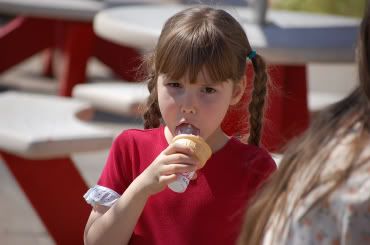 Before leaving, the children posed for a pic...



Then they all mooooved to the van,
as we herded the cattle home. ;o)

Our day didn't end there...
When we arrived home, the children got an in-home field trip!
Courtesy of Uncle Sam, we got a new refrigerator
that has an ice maker (way to go, Honey!).
The maintenance man came to add the water line


(from the bathroom sink, which is

on
the other side of the wall from our fridge)


and he invited the children to watch and learn...
and they were very eager to...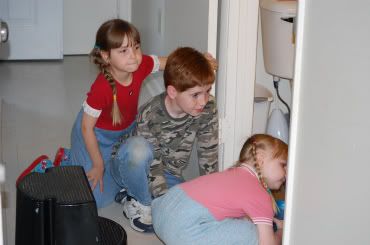 Watching him drill a hole through the wall, under the sink,
while listening to him explain what he was doing.



Will helping to pull the line through the wall.



Learning how the hose is hooked to the fridge
and how it will work once it is finished.



Looking under the sink at the clamp (thingy)
that he connected to the waterline.

It was quite an educational lesson!
They thanked him for letting them watch and learn
and they were quickly off to play!

Our

friends

stayed for sourdough pizza and fellowship.
As the mamas were making the pizzas,
Daddy was given an invitation by Beth
and the children were pleasantly surprised by his answer...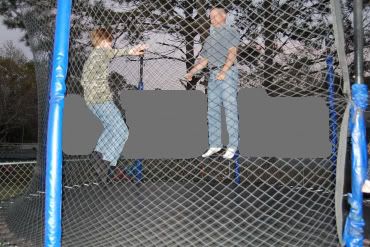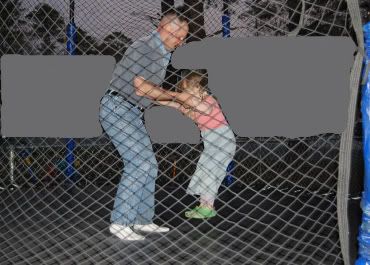 And he even threw in a "bonus"...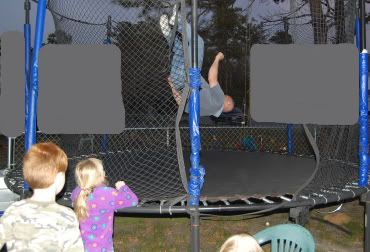 LOL

Here were the children in the evening,
after playing outdoors all day...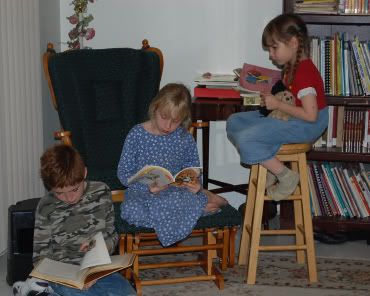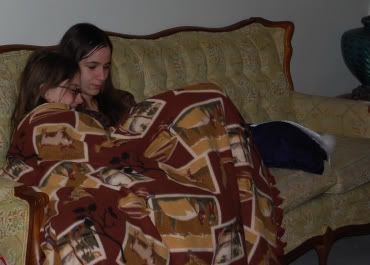 It was a great, fun-filled day!
It was a blessing to be outdoors,
enjoying God's marvellous creation
and fellowshipping with friends!
I hope y'all enjoyed your day, too!
"This is the day which the LORD hath made;
we will rejoice and be glad in it."
~ Psalm 118:24