Today we had planned to go to our homeschool park day,
however, we were rained out.
It rained the majority of our day.
Though it was wet and cloudy,
the sound of the rain
was relaxing,
along with the smell of it
and the cool breeze.
And we still enjoyed God's creation from our window...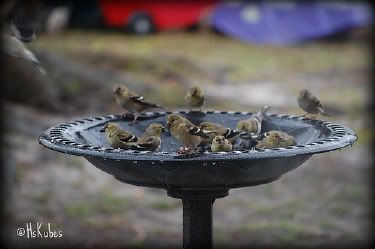 Gathering of Goldfinches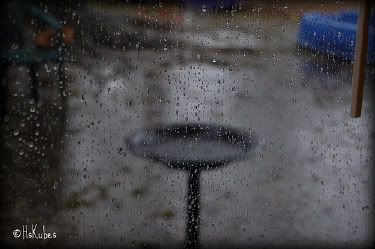 Rain on the Window


Before our Bible time, I found the children
having their own personal time with the Lord...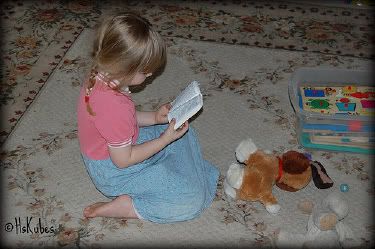 Carolynne sharing the Gospel with her floppy-eared pals
Beth "reading" to her spotted friend


Will singing praises after his quiet time with God

Ally, too, was having her quiet time but I didn't interupt. ;o)

Afterwards, we had our Bible time,
reading John 4 about how Jesus healed the nobleman's son,
then the children illustrated the story.
Later, Will and Ally worked on their academics
while Beth and Carolynne drew and played.

I worked a bit in the house and spent some time working

here

.
Later in the day, I found the younger children
in the living room
playing a game
that they had "invented" for rainy day fun...

Toilet paper golf...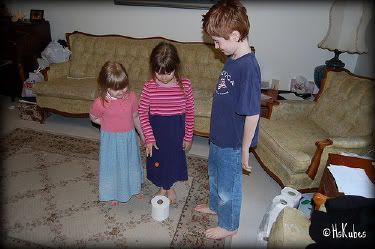 They were rolling the ball from across the room
towards the roll of toilet paper.
Then they would "putt" it by dropping it in the tube.
lol I smiled (and chuckled) at their creativity
and their amusement with the game. ;o)

We were blessed with Daddy arriving home
just a little bit early this evening!
We were about to begin rolling out sourdough
for our Friday pizza when the power shut off.
Since Daddy had to run to the auto store,
he decided to take us all out to supper...
at Olive Garden... yum!
We were seated at one of the tables
that are in their own little room.
It was almost like having supper at home
at our dining room table.
We had a lovely time!

When we arrived home, the power had been turned back on
(about 45 minutes before) and we were glad.
We wrapped up the evening with hugs and kisses
and tucked the younger ones into bed.
Ally helped Daddy change the windshield wipers on his truck
and is heading to bed soon.
Daddy and I are looking forward to the close of the evening
and a good night's sleep...
especially since we were up late last night
playing a game of Rummy 'til after 2am!
It was just like recruiting duty! lol

I hope y'all enjoyed your day
and hope you have a great weekend!

Since I didn't have any photos of Ally to share,
I'll share a couple of photos that she took yesterday...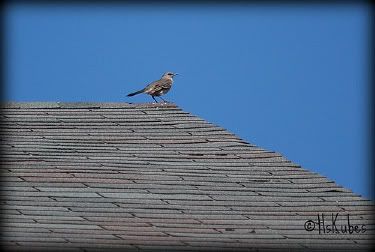 Mockingbird on our rooftop
I spy, Nutkin Squirrel
(This is one brave squirrel, folks!)
"For the earth is the Lord's,
and the fulness thereof."
~ 1 Corinthians 10:26