Good Morning!
I hope everyone enjoyed their weekend
and had a blessed Lord's Day.
Yesterday our church began its
KJ Bible Conference,
which has been a real blessing so far!
It will continue until Wednesday
and we look forward to being in the Lord's house,
under some great preaching this week. ;o)
In addition to the great preaching,
last night the visiting preacher
sang a wonderful (and hilarious) song
regarding evolution that I hope to share later.

Today, Lord willing, we will be focusing
on something that resembles a "schedule".
Back in December (I think) I was able to
draw up our new schedule
but have been unable to implement it
so we hope to focus on that today. ;o)

Before I go, Here are a few photos
from our weekend...




Ally playing the piano as the lil' girls look at books




Daddy and Will working together to fix the gazebo
(which last week's wind had broken)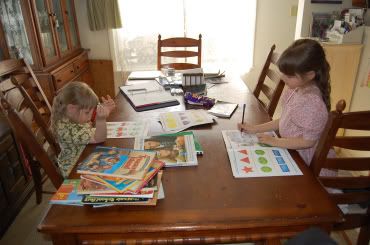 Carolynne and Beth working on "school"
as Mommy was, too.
(Note the paperwork in the background
and the stack of books in the forefront)




Ally reading words to songs she was playing




Daddy teaching Will about nuts, bolts
and other miscellaneous hardware.




Will prepping the hardward for Daddy.




Beth and Carolynne playing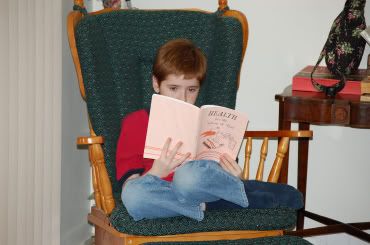 Will reading our old Rod and Staff Health book
about the harmful effects of nicotine, caffine, etc...


More dress up with Beth and Carolynne...


Wearing Wal-m*rt vest's from

Papa Carl

...
(or Papa Carlo, as they say)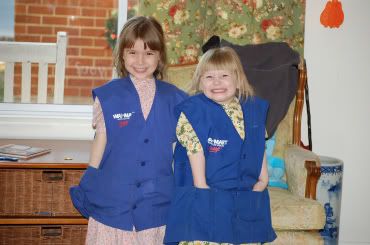 Here are a few photos from our backyard,
taken by Will...



A view of our bright sun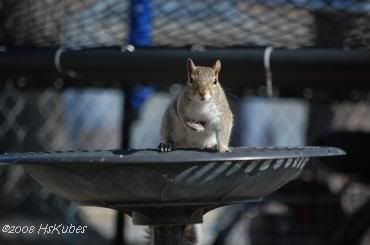 Our personal Nutkin Squirrel


The birds were very lively this weekend, too.
Lots of sparrows, mourning doves, house finches,
tufted titmice, black-capped chickadees, blue jays.
They were singing of springtime!
We had a few of these little fellows in our yard, too,
but are unsure of what they are.
Their beaks look very similar to cardinals
but we haven't been able to research it just yet.
If you know what it is, we'd love to know, too. ;o)


Hope y'all have a happy Monday!
"The flowers appear on the earth;
the time of the singing of birds is come..."
Song of Solomon 2:12