Our week has been going very well.
It has been such a blessing
implementing new things in our homeschool/Bible time.
This week we have been studying Genesis 2.
Again, it has been a blessing studying, digging deeper into,
gaining a better understanding and learning to apply
God's glorious Truths!
It, also, thrills and blesses my heart
to see the children become real thinkers...
they are learning/practicing to defend their faith.
Hearing their thoughts (from the youngest to the oldest)
has been such a blessing to hear!

Here are the younger ones outlines
from our study this week...


(top to bottom, left to right: Carolynne, Beth, Will)
I drew the outline for the lil' girls and they colored it
and Will illustrated his own.

Here is one sample of their copywork this week,
using our key Scripture...





(top to bottom, left to right...)


Carolynne traced my dotted letters,
Beth copied from the dry erase board,
and Will copied from his Bible.

Also, this week, we were able to spend some time with friends.
Ally and her friend enjoyed singing together...


(what a delight that is to hear, too!)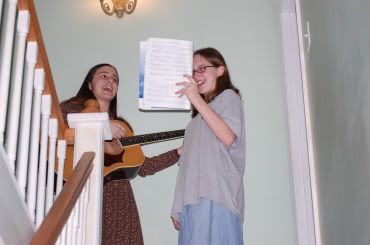 The younger ones enjoyed playing outdoors,
making all kinds of 'yard soup'...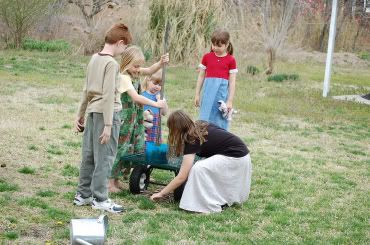 Noone, of course, actually tasted the soup

(that we know of)

. ;o)

Today, Lord willing, in addition to our daily things,
we will be travelling to the commisary
to pick up some 'overdue' groceries. ;o)
(Though we may be met by rain... it's a dark, blustery day today...
but as Pastor says, and has us sing, "There is sunshine in my soul today")
I hope y'all enjoy your day!
"For God, who commanded the light to shine out of darkness,
hath shined in our hearts,
to give the light of the knowledge of the glory
of God in the face of Jesus Christ."
~ 2 Corinthians 4:6