We spent much of our morning
cleaning, vacuuming, doing laundry, etc...
It was work but we had fun with it. ;o)

This afternoon, Ally worked on her
Worldview and Advanced Chemistry,
as well as practicing violin
(which she is loving!).

Will and I were able to get some
'official' learning moments in, as well.
We were able to finally finish our book,
D'Aulaire's Benjamin Franklin,
had some discussions about
The Declaration of Independence,
the Constitution, Benjamin's inventions,
taxation without representation,
and a few other things regarding Benjamin,
his life and character.
I was delighted to hear Will explain many things
to me that he had read in other books.
What a blessing to see how he was
able to recall the information he had read. ;o)
He, also, read another book about
Benjamin Franklin on his own
and we did the first couple of lessons of Language Arts.
We did picture study, narration, and copywork.

The lil' girls enjoyed a day of games, creative play,
and having fun in their newly rearranged bedroom. ;o)

We look forward to being in the Lord's house this evening.

Before I go to enjoy the afternoon,
I just wanted to share something from this morning.
It was bittersweet but it blessed my heart.
Beth, for the past couple of days, has discovered
that with turning another year older
(a total of 5 whole years),
she is now old enough to do her own hair.
She has been found, often, in the bathroom,
on the stool, standing in front of the mirror,
working on pulling her hair back
and putting it in a clip.
She was mighty proud of her new accomplishment,
as was I... though, as I mentioned,
it was a bittersweet blessing as I see this little girl
grow up right before my eyes.

Here she was showing me this morning...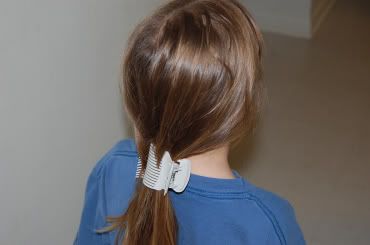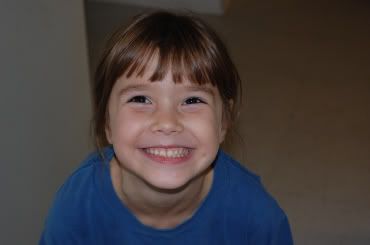 Thank you, Lord, for the time we have
with the precious children you've entrusted us with.
"Lo, children are an heritage of the LORD:
and the fruit of the womb is his reward."
~ Psalm 127:3