This morning, it was insisted upon
that I sleep in a bit... so I graciously obliged. ;o)
About half an hour later,
I was informed that I could arise.
I walked downstairs, smelling wonderful aromas,
and proceeded to the dining room,
where all of the children were sitting at the table,
smiling sweetly, and greeted me with
a hearty "Surprise!" in unison.
The table was set and on it lay breakfast...
waffles and tater tots...
and a cup of coffee, just for Mom. ;o)
In addition, I was given this note:



It was precious.
We enjoyed a lovely breakfast together.


The rest of our day was similar to yesterday.
Ally was able to accomplish much
in Worldview, History, Math, Advanced Chemistry
and Literature reading.
Here she was working at them...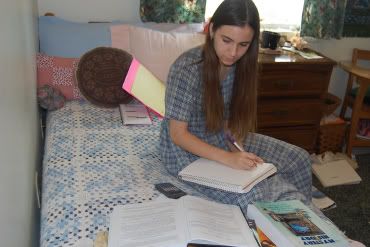 She, also, practiced piano and violin. ;o)

Will and I were able to accomplish much, also.
He did some copywork for math
and for a Scripture verse he chose to meditate on.
For history, we read about our constitution
from the book "A More Perfect Union"
and about the poem/song "America the Beautiful".
Then, for science, we read from our Burgess Bird Book
about the English Sparrow.
It really interested us, so we, also, read an excerpt
from our "Handbook of Nature Study",
then did some dictation.
Afterwards, he enjoyed looking through
our "Handbook of Nature Study" more...



The lil' girls enjoyed more constructive and creative play,
as well as doing a little "school"
(because they enjoy it, too). ;o)
We did a picture narration
and then they wanted to do a little copywork.
Here they were eagerly working...

It was a blessing to see the children enjoying learning.
Tomorrow the three girls go for a dentist appointment
and we hope to spend an afternoon with friends.
I hope y'all have enjoyed your day, too!
"And my tongue shall speak of thy righteousness
and of thy praise all the day long."
~ Psalm 35:28