I hope y'all had a blessed weekend...
we sure did.
Saturday evening we had a baby shower
for a young lady at church.
Baby showers are such fun.
What a blessing it is to celebrate
the arrival of a precious little one!

We had a blessed Lord's Day, as well.
Pastor has been having a theme this month
that he has called "October-Blest".
Each Sunday is focused on a different blessing.
Yesterday morning was the blessing of church.
What a blessing it is, too!
(By the way, in case y'all are unaware
October is Pastor Appreciation Month...
be sure to let your pastor know
that you appreciate all that he does.
Don't forget about his wife, too.)

Yesterday evening, as we were leaving
to head to the evening service
we witnessed a beautiful sunset sky...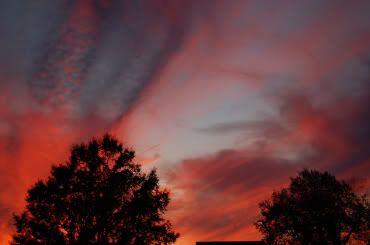 It was breathtaking!

In the evening service, we had an individual
that accepted Christ as his Saviour! Praise the Lord!
There's a new name written down in Glory! ;o)


Today was, mostly, a work day for us.
After quiet time, I chiseled away at Mount Washmore,
cleaned up in the kitchen, caught up on a few phone calls,
took the bunk beds apart and rearranged
the girls' bedroom (phew), bathed the children and more.

Before heading to her room for some school work
and her violin practice/lessons,
Ally took advantage of the quietness
of the younger ones playing outside
and played the piano...

(those are new 'Oreo' pajamas she made over the weekend...
out of old bedsheets)

The younger ones were outside, playing in the birdbath


(I filled it with fresh water)...





Ally worked on Worldview and Violin most of the day.
Will enjoyed reading, reading, and more reading,
as well as creative play.
Here he was reading "Little House on the Prairie"
(for the second time in one week)...


He enjoys telling me all about what he's read
(which, of course, counts as narration).

The lil' girls enjoyed putting on a little puppet show
(among other things)...


They had put the puppet stand together and all. ;o)
Quite an accomplishment for these two girls.
I enjoyed watching their presentation
and listening to them sing "Jesus Loves Me". ;o)
Tomorrow will be an errand-running day.
I hope to respond to comments soon. ;o)
I hope y'all enjoy your week!
(a portion of Scripture from my quiet time today)
"Rejoice evermore. Pray without ceasing.
In every thing give thanks:
for this is the will of God in Christ Jesus concerning you."
~ 1 Thessalonians 5:16-18