Ally made this for supper over the weekend
and, surprisingly, it was a big hit!
I thought I would share the recipe...

Barley Casserole




(adapted from"The Busy Woman's Guide to Healthy Eating")



1. Brown over medium heat, stirring frequently
for about 10 minutes:
3/4 Cups pearl barley

2. Lightly saute' in 2 or 3 TBS water:

1/2 to 1 cup chopped celery
1 small green pepper, chopped
1/2 onion, chopped

3. Bring to boil in a saucepan:
2 cups of water

with 1 1/2 tsp chicken or beef broth
(or 1 TBS liquid aminos)
2 tsp soy sauce

4. Pour hot broth into 9"x13" casserole dish; mix in:

browned barley
sauteed veggies
small can garbanzo beans, drained and rinsed
small can of sliced water chestnuts
1 cup corn

5. Cover and bake at 350 for 1 1/2-2 hours
until barley is tender and liquid is absorbed.

Optional: add your favorite meat, if desired.

Proof it passed the taste test... ;o)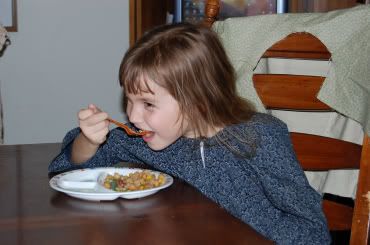 LOL!