I would love to say I know
just how a week went by without a post
but I can't because I don't. ;o)
Thank you for those that checked-in on us
as I somehow underwent a bloggy silence.
(sorry, Honey) ;o)

We did keep busy this week with miscellaneous things...
music lessons, making menus, grocery shopping,
running errands, going to the library, midweek service,
fellowshipping, homeschool group park day,
keeping the home, learning, playing, living, etc...

Since I hadn't posted all week,
I thought I'd share some photos from our days...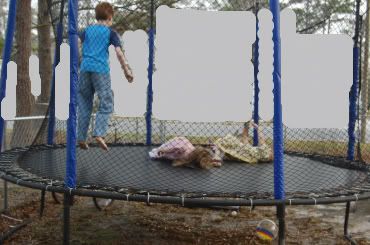 Will and the girls enjoyed the lovely weather
that we had earlier this week
by spending time outside, jumping and such. ;o)




One of Ally's highlights was talking on the phone
while she was working on her Advanced Chemistry.
As a general house "hedge",
the children do not speak on the phone...
so, she was thrilled to talk, twice, to Dr. Jay Wile
(the author of her
Apologia
science curriculum)
to get much needed help on an equation that stumped her.
She was tickled to talk "Chemistry language" with someone
that understood what she was talking about. lol
And Dr. Wile had a rare privilege bestowed upon him
as Ally is not permitted to talk on the phone
(especially male) other than with Daddy
or, occasionally, close family members. ;o)
The conversation was very helpful, though, for Ally
and he even helped her, unknowingly,
with her pre-cal, which was an added blessing.
Another blessing this week was that
our local base high school gave us permission
to borrow one of their graphing calculators
so she could do her pre-calculus this year,
which saved us $100+! ;o)




Here were the lil' girls, one morning,
playing on the kitchen floor with the playdough.
They were busy there for quite a long while.
In this photo, they were making s-n-a-k-e-s...
Mommy's favorite... NOT!
But they enjoy giggling about it.




Here Ally was enjoying one of those sit and spins.
It was quite humorous watching Ally spin around. lol


Today was our homeschool group park day,
even though the temp dropped and we were quite chilly
(except for Ally, who loves the cold). ;o)

Here were the Beth and Carolynne playing together...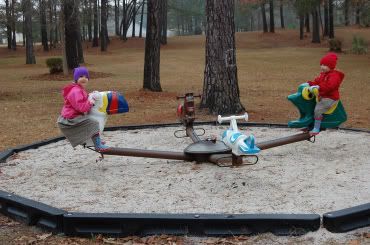 Will enjoyed playing with friends...




Will, also, enjoyed the "hanging, sliding thingy"
(sorry, I have no idea what this thing is called)...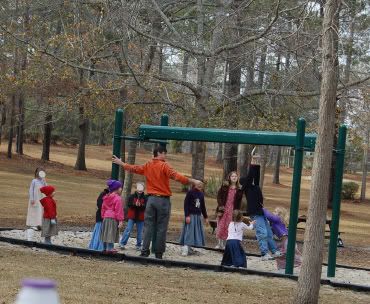 Beth enjoyed it, too...



Carolynne considered it but that was as far as she got. ;o)

After our park day, we had friends over for fellowship.
The younger ones were eager to make music...


Will had been directing the music
as Beth and her friend played their new violins
and Carolynne played the piano.
The house was filled with music (a joyful noise). ;o)

Later, Ally taught violin lessons ...



After our friends had gone,
Ally worked a little with Beth, too...

Before supper, the younger ones played quietly...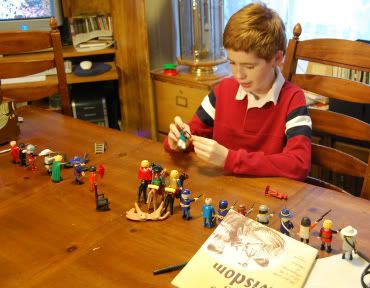 And Ally volunteered to make the sourdough pizza...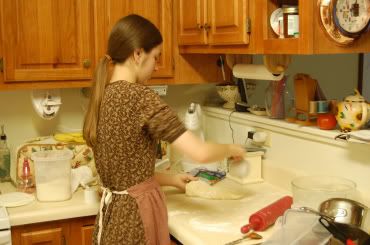 She was thrilled to finally figure out
how to roll the dough an easier and more effective way.
Rolling sourdough is an art after all. lol ;o)
She made wonderful pizza! It was such a blessing.
We enjoyed a quiet, delicious supper together
but we are looking forward to the anticipated days
when Daddy will be eating with us. ;o)
Hope y'all have enjoyed your week, too!
"For the LORD is good; his mercy is everlasting;
and his truth endureth to all generations."
~ Psalm 100:5