I hope y'all had a good weekend
and a blessed Lord's Day. ;o)
Sunday morning the children's choir sang,
which is always a blessing...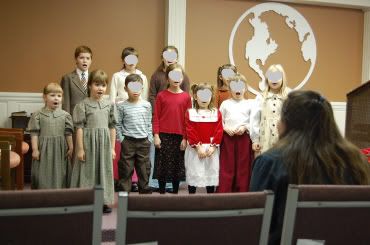 They sang "The Windows of Heaven Are Open".

Sunday evening, Ally did an offeratory duet...


That was such a blessing to hear as well. ;o)

We had this common occurance after the evening service...


So sweet! She has always taken her sleep seriously
and has such a difficult time
waiting for that sweet slumber
when we are out past her bedtime. ;o)


Today, as

I spent some time sewing

,
the children had some learning time and some free time.
Ally and Will worked on Will's piano lesson...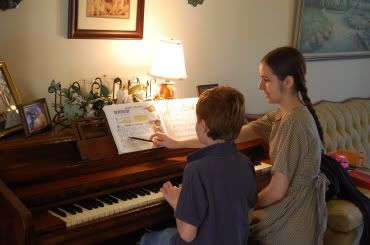 Beth and Carolynne enjoyed coloring and drawing...



The younger ones were glad to play outside
for just a little bit, despite the very cold weather.
They were quite amused that the bird bath water
was a large icecube the shape of the bird bath...


It was a lovely day together.
We are beginning to look forward to warmer weather...
unless, of course, we get snow...
then the cold weather somehow becomes more tolerable. lol
Tomorrow we look forward to some more learning moments,
piano lessons out of the house,
and beginning, again, to prepare for Daddy's arrival
(though I cannot share the date). ;o)
We sure appreciate your continued prayers.
Hope y'all enjoy your week!
"For the word of the LORD is right;
and all his works are done in truth.
He loveth righteousness and judgment:
the earth is full of the goodness of the LORD."
~ Psalm 33:4-5