Another bittersweet birthday is upon us...
Our "baby" turns 4 years old today!

She's long left diapers and is embracing little girlhood.
Oh, how we love to hear her as she loves to sing
and what a joy it is to all of us
that she loves to freely and abundantly give
hugs and sugars (southern for kisses).
She's such an affectionate one.
And what a delight it is to hear
that adorable southern drawl in her voice
and witness such animated faces!
Thank you, Lord, for blessing our family
with the joy of Carolynne!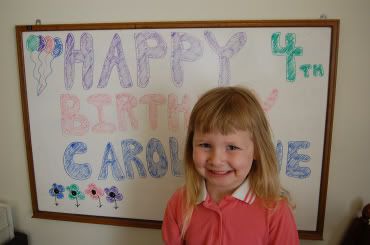 Happy 4th Birthday, Carolynne!
We LOVE you! ;o)

"This is the day which the LORD hath made;
we will rejoice and be glad in it."
~ Psalm 118:24


"Lo, children are an heritage of the LORD:
and the fruit of the womb is his reward."
~ Psalm 127:3